Creamy Tomato and Ginger Soup
Vegan
Creamy Tomato and Ginger Soup
Vegan Lass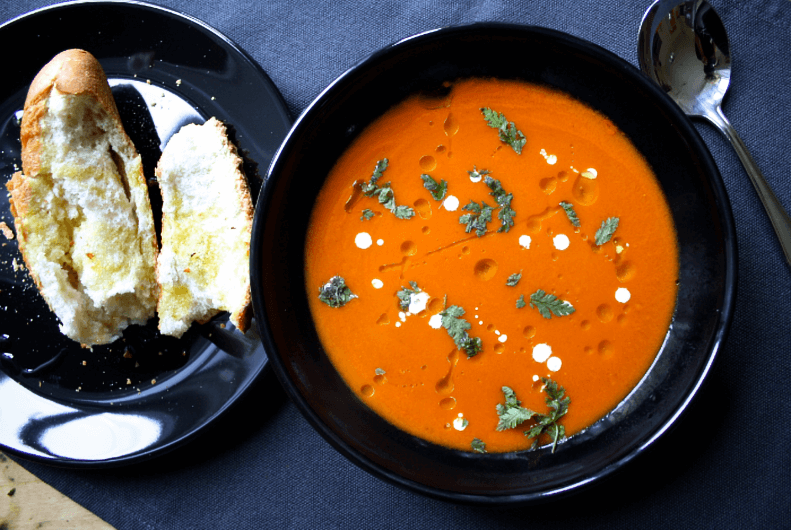 Prep Time

10m

Cook Time

20m

Servings

6
Ingredients
2 Tbsp olive oil

2 brown onions, peeled and diced

5 cloves garlic, minced

1 bay leaf

1 stalk celery, diced

2 400-g tins chopped tomatoes

500 ml vegetable stock

1–2 Tbsp tomato purée

400 ml vegan cream

3 Tbsp sugar

5–7 cm fresh ginger root, grated, to taste

2 tsp ground turmeric

1 tsp ground cumin

1–2 dashes chilli flakes

1 dash ground cayenne pepper

1 squeeze lemon juice

Sea salt, to taste

Black pepper, to taste

2 handfuls sweet cicely or tarragon, coarsely chopped
Method
Heat the olive oil in a large pot or pan on medium-high. Add the onions and garlic and fry until fragrant and translucent, about 5 minutes. Add the bay leaf and celery and fry for a further 3 to 4 minutes.
Tip in the tinned tomatoes, vegetable stock, and tomato purée and stir thoroughly, then allow to boil for about 15 minutes.
Lower the heat, add the vegan cream, sugar, ginger, and spices and simmer for 10 minutes.
Remove the bay leaf and blend until smooth. Add the lemon juice and season to taste. Blend again briefly.
Top with the sweet cicely or tarragon and serve with a hunk of crusty bread.