"The joy of making an Eton mess is that you can keep it simple or really go to town with a variety of strawberry- and cream-based ingredients. Just gather the ingredients you want to use and let your creative juices flow. I added rose water to my meringues, a nod to England's national flower. You can easily adapt this recipe to the season by replacing the strawberries with seasonal fruit, like blackberries, plums, cherries, figs, or peaches."
– Day Radley
Vegan
Eton Mess
Day Radley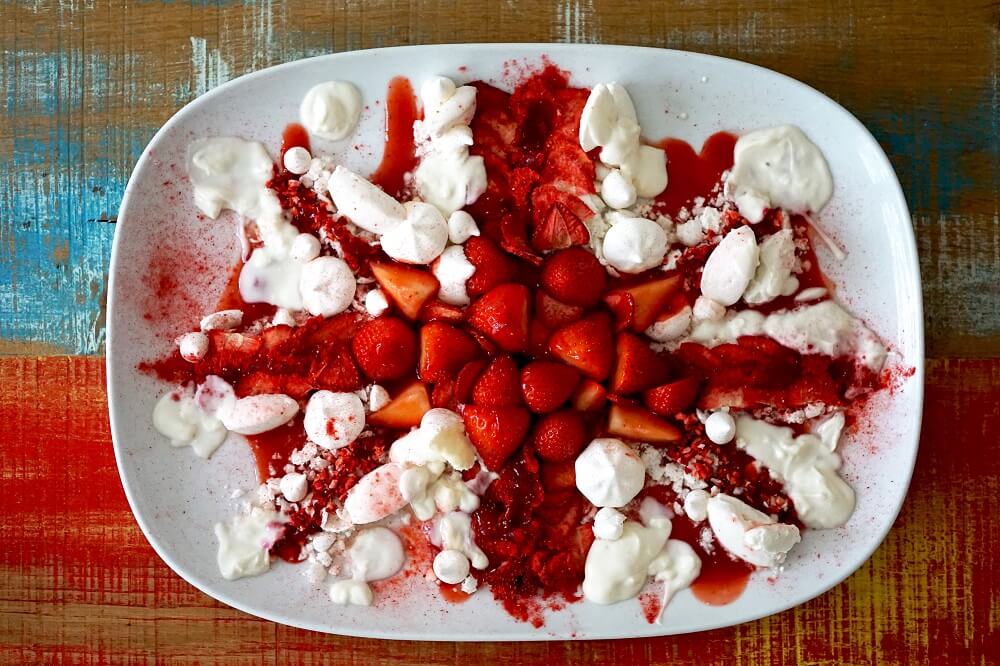 Prep Time

1h

Cook Time

30m

Servings

1
Ingredients
6 Tbsp aquafaba

1/4 tsp cream of tartar

4 drops rose essence, optional

150 g caster sugar

400 g strawberries, quartered and stalks removed

1 tub vegan vanilla ice cream or 1 carton non-dairy cream

Optional garnishes: dehydrated sliced strawberries, strawberry powder, freeze-dried strawberry pieces
Method
Preheat the oven to 100°C.
Put the aquafaba, cream of tartar, and rose essence (if using) in a deep bowl and whisk with an electric hand mixer until firm peaks form, about 5 to 10 minutes.
Add 100 grams of the caster sugar a little at a time, whisking between additions.
Transfer the meringue mix to a piping bag and pipe circles roughly 3 centimetres in diameter onto two baking sheets lined with greaseproof paper.
Bake for 1 hour, then turn off the oven and leave inside until the oven is cool.
Place 300 grams of the strawberries in a saucepan with the remaining sugar. Add a splash of water and cover. Cook on a low heat until the sugar has dissolved, the berries have broken down, and the mixture has thickened. Pass through a fine sieve if you want a smooth sauce.
Place half the meringues in a serving dish followed by half the remaining strawberries, half the ice cream, and half the sauce then repeat. Garnish as desired and serve immediately.