Vegan
Fresh Spring Rolls
An Ode to Mung Beans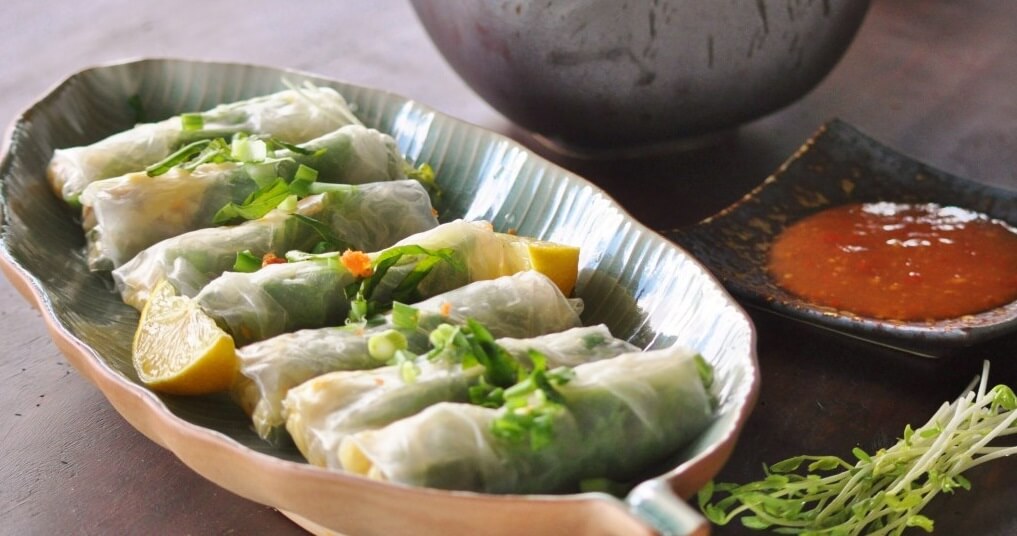 Prep Time

20m

Cook Time

5m

Servings

14
Ingredients
1 Tbsp toasted sesame oil

3–4 spring onions, finely chopped

2 cloves garlic, crushed

1 red chilli, deseeded and finely chopped

1 yellow pepper, chopped

1 handful mushrooms, chopped

Other veggies of your choice, optional

Soy sauce, to taste

1 large handful fresh basil or coriander, coarsely chopped

14 rice paper wraps

Warm water

14 lettuce leaves

Sweet chilli sauce, optional
Method
Heat the sesame oil in a wok over high heat. Add the spring onions, garlic, and chilli and sauté for 1 minute. Add the yellow pepper, mushrooms, and any other veggies you fancy and cook for a few more minutes.
Turn off the heat and give it a good dash of soy sauce as well as adding the basil or coriander. Transfer to a bowl and allow to cool slightly.
Dip a single rice paper wrap into a wide bowl filled with warm water for about 15 seconds, until just soft. Lay flat on a chopping board, place a smaller lettuce leaf on top, add about 2 tablespoonsful of the filling, and wrap up. Arrange on a serving dish seam-side down. Repeat until each wrap has been filled.
Refrigerate for about 10 minutes then serve with sweet chilli sauce or soy sauce, if desired.