Vegan
Frittata
An Ode to Mung Beans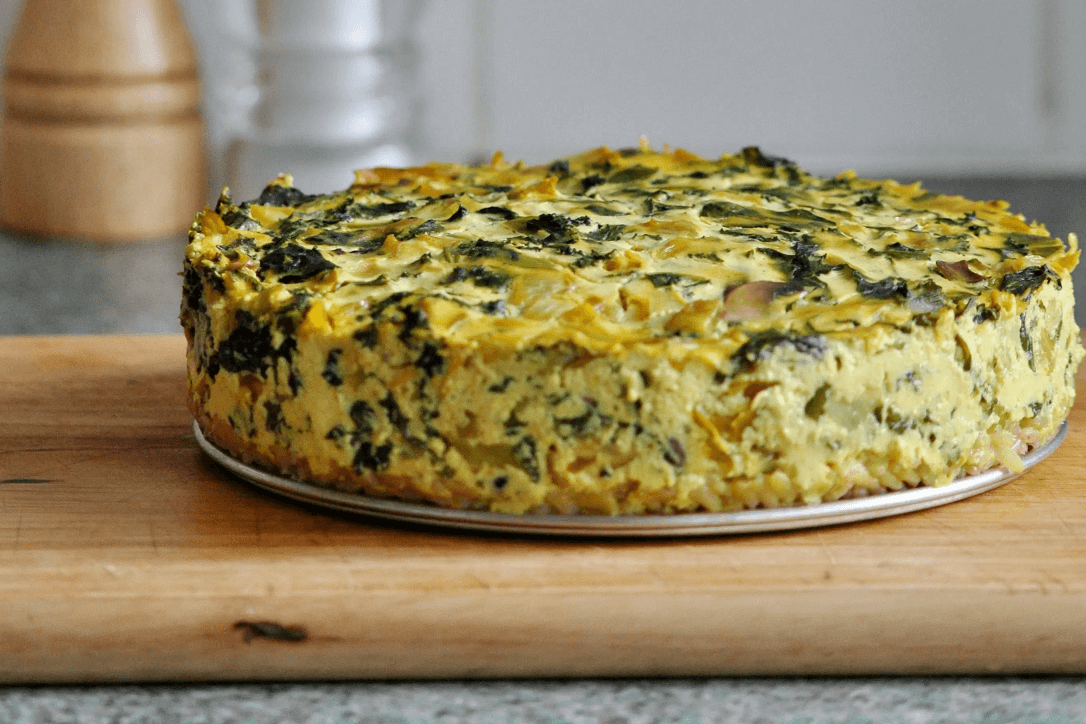 Prep Time

20m

Cook Time

40m

Servings

4
Ingredients
1 Tbsp ground flaxseed

3 Tbsp water

1 3/4 cups cooked brown rice

2 Tbsp olive or vegetable oil, plus extra for brushing

1/2 onion, chopped

4 spring onions, chopped and separated into white and green parts

4 cloves garlic, crushed

1 yellow pepper, chopped

6 mushrooms, chopped

100 g baby spinach

100 g kale, chopped

1 large handful fresh basil leaves

1 package firm tofu

2 tsp Dijon mustard

1/2 tsp turmeric

2 Tbsp soy sauce (or tamari if gluten-free)

3 Tbsp nutritional yeast

2/3 cup soya or almond milk

2 tsp arrowroot powder
Method
Preheat the oven to 190°C and lightly grease a springform pan.
Mix the flaxseed with the water and let sit for 5 minutes. Stir into the cooked rice.
Press into the bottom of the pan. Brush with a little oil, bake for 10 minutes, then set aside. Turn the oven down to 180°C.
Heat 1 tablespoonful of oil in a frying pan and cook the onion, spring onion whites, and garlic until soft. Add the pepper and mushrooms and sauté for 10 minutes.
Add the spinach, kale, basil, and spring onion greens a little at a time until wilted.
In a blender or food processor, blend the tofu, mustard, turmeric, soy sauce, nutritional yeast, non-dairy milk, arrowroot powder, and the remaining oil until smooth.
Stir into the greens. Pour over the crust and bake for 40 to 50 minutes, until browned.
Let cool for 1 hour, then remove the sides of the pan. Let cool fully before slicing.
Enjoy cold or reheat in the oven.