Gingerbread French Toast Sticks
Vegan
Gingerbread French Toast Sticks
hot for food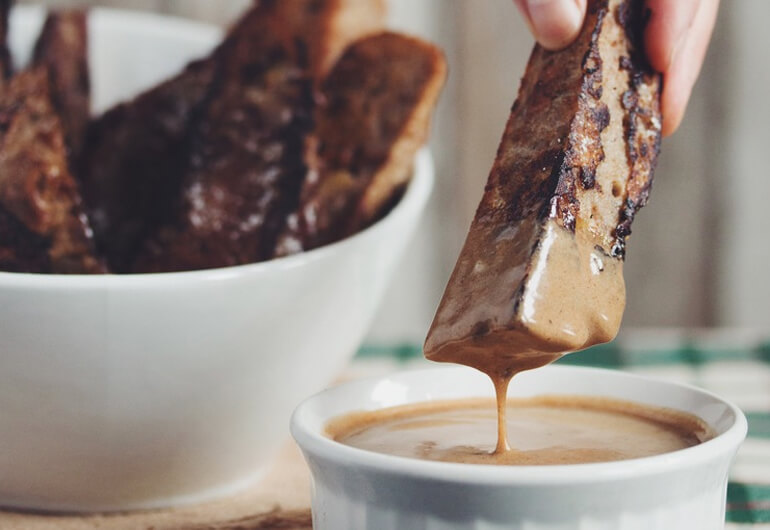 Prep Time

10m

Cook Time

25m

Servings

12
Ingredients
400 ml (1 tin) full-fat coconut milk

1/2 cup + 1 Tbsp maple syrup (or other vegan sweetener)

1 tsp molasses

1/2 tsp vanilla extract

1 1/2 tsp cinnamon

1/4 tsp allspice

1 small loaf dense bread

2 Tbsp gram flour

1 Tbsp nutritional yeast

1/4 tsp sea salt

1 cup non-dairy milk

Vegan butter, for greasing

1–2 tsp powdered sugar
Method
Preheat the oven to roughly 80°C and place a non-stick or parchment-lined baking sheet inside.
Whisk the coconut milk, 1/2 cup of maple syrup, the molasses, vanilla extract, cinnamon, and allspice in a saucepan over medium heat until well combined. Bring to a simmer, then reduce the heat and whisk occasionally for 20 minutes until creamy. Keep warm.
Cut the loaf into 5-cm slices and then into sticks 5 cm wide.
Combine the gram flour, nutritional yeast, salt, non-dairy milk, and the remaining maple syrup in a bowl. Soak a few sticks of bread in the batter while warming a frying pan.
Grease the pan with vegan butter then add 3 or 4 battered sticks. (Add more sticks to the batter to soak.) Fry for 1 to 2 minutes, turning so that all sides become golden and crispy. Place on the baking tray in the oven to keep warm.
Repeat the previous step until all the sticks have been battered and fried.
Remove the warm French toast from the oven and dust with the powdered sugar. Pour the coconut milk fondue into bowls or ramekins for dipping.