Grilled Cucumber and Charred Harissa Flatbread
Cucumber is the new cauliflower. When grilled, it has a great bite but also little pockets of water which get a little smoky. This dish, adapted from a recipe by Neil Rankin, calls for getting your vegetables nice and charred and then blitzing that flavour into the sauce for maximum smokiness. That's one of the great thing about vegetables – because they're lower in sugar, you can take them further on a grill.
Vegan
Grilled Cucumber and Charred Harissa Flatbread
Neil Rankin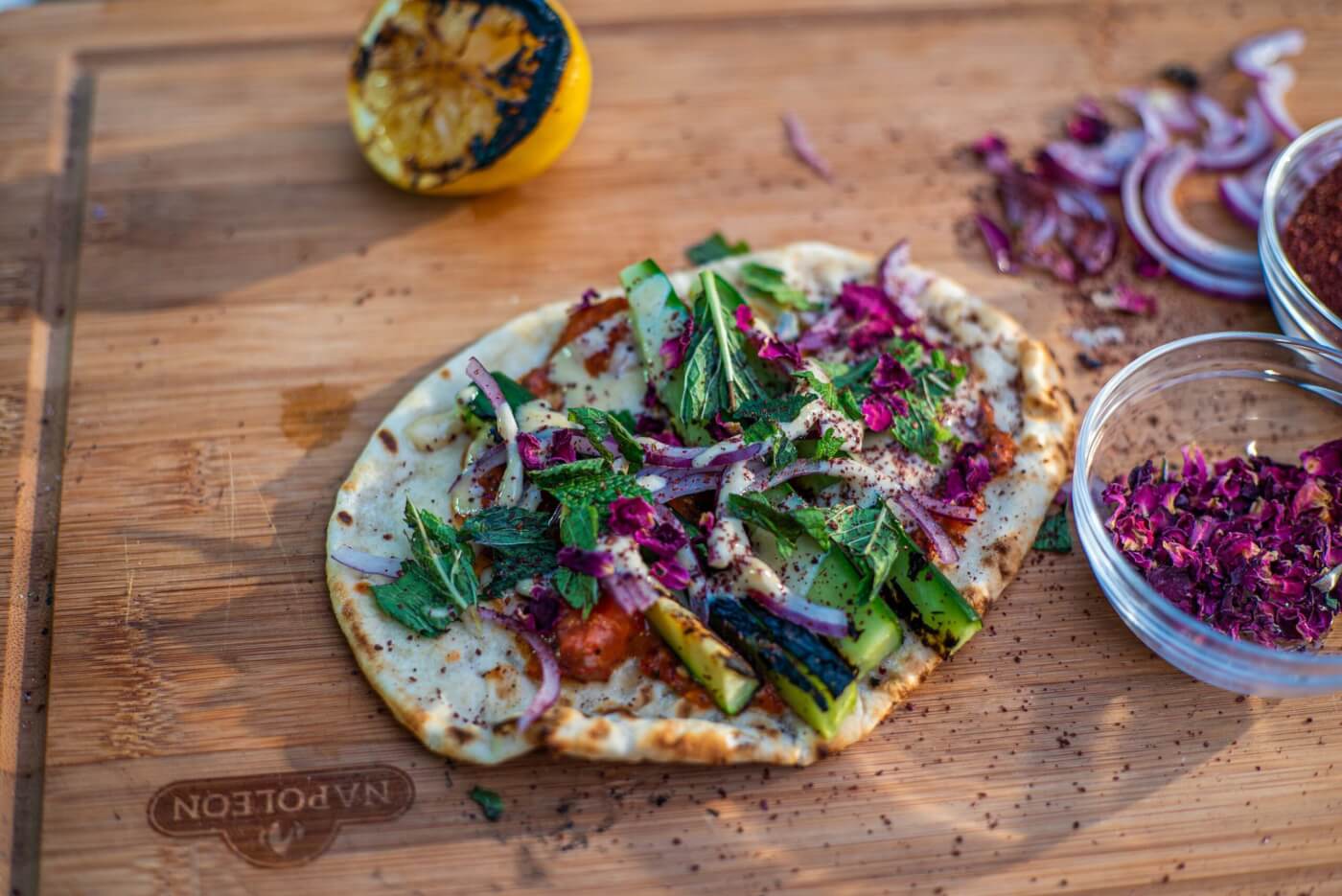 Prep Time

10m

Cook Time

30m

Servings

4
Ingredients
1

tsp cumin seeds

1

tsp coriander seeds

1

tsp caraway seeds

2

Tbsp dried rose petals

4

dried Kashmiri chillies

5

mild red chillies

1

garlic clove

5

medium tomatoes

1

cucumber

1

courgette

2

lemons, halved

1

red onion, finely sliced

200ml

Tahini

50ml

agave syrup

4

flatbreads

1

Tbsp sumac

1

handful mint leaves, torn roughly

Salt, to taste
Method
Warm a frying pan over medium heat and toast the spices and rose petals until fragrant.
Add to a blender with the dried chilies, one of the red chillies, and the garlic.
On a barbecue, cook the remaining chillies and the tomatoes until black and cooked through.
Chop and add to the spice mixture. Transfer to the pan and cook for 5 minutes more.
Blend or pound in a pestle and mortar until smooth.
Barbecue the cucumber, courgette, and lemons until cooked and caramelised. Roughly slice the cucumber and courgette.
In a bowl, squeeze the caramelised lemon, add the tahini and agave syrup, and mix. Add water until smooth and the consistency of single cream.
Grill the bread and top with the tomato sauce, the cucumber and courgette, and the tahini mixture. Garnish with the onion, sumac, and mint. Add salt to taste.