Individual Mushroom Wellingtons
From vegan-cooking enthusiasts to those who simply dabble now and then, everyone will love this delicious mushroom Wellington recipe created by bestselling vegan cookbook author Áine Carlin. The tasty dish has a rich yet fresh flavour that anyone can recreate – without hard-to-source ingredients.
The trick is to tuck the pastry tightly around the mushroom, making sure there are no air bubbles, so that it shrinks as the mushrooms cook and reduce. Serve with steamed green beans and a few boiled salad potatoes for an elegant supper.
Vegan
Individual Mushroom Wellingtons
Áine Carlin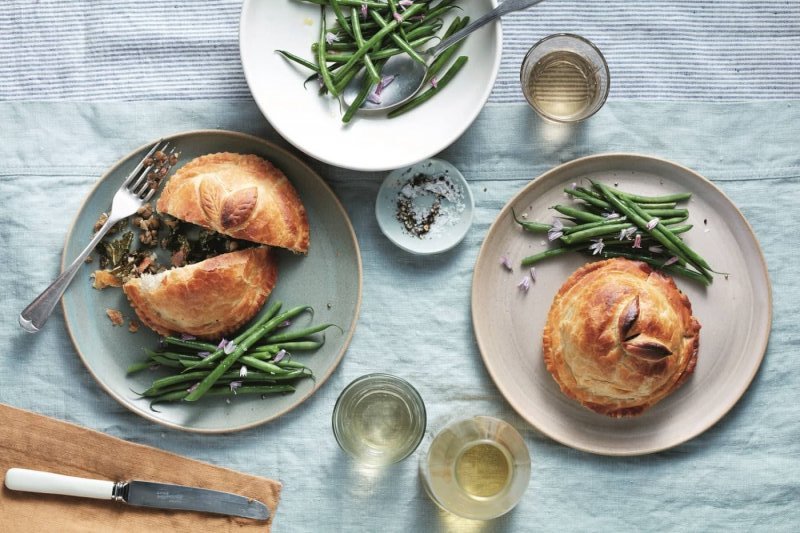 Prep Time

1h

Cook Time

35m

Servings

4–8
Ingredients
2 Tbsp

olive oil

3 shallots,

finely chopped

Sea salt,

to taste

200 g green lentils,

rinsed

2

bay leaves

750 ml

water

1

vegetable stock cube

1½ tsp

Marmite

4 large Portobello mushroom caps

100 g kale

leaves torn and tough stalks removed

Juice of ½ lemon

2 sheets ready-made vegan puff pastry
Method
Warm 1 tablespoonful of the oil in a large saucepan over medium heat. Add the shallots, season with salt and pepper, and sweat for 2 to 3 minutes, until translucent.
Stir in the garlic and sauté for 1 to 2 minutes, then add the lentils, bay leaves, water, and stock cube. Stir to dissolve the stock cube, bring to a gentle simmer, and cook for 40 minutes, or until most of the liquid has been absorbed and the lentils are tender.
Stir in the Marmite and simmer for a further 5 to 10 minutes, or until all the liquid has been absorbed. Remove from the heat and let cool, then spoon over the mushrooms. Set aside.
Warm the remaining oil in a frying pan over medium heat. Add the kale, season generously with salt and pepper, and cook, stirring occasionally, until slightly wilted. Drizzle with the lemon juice and set aside to cool.
Preheat the oven to 220°C.
Roll the pastry out on a floured work surface to enlarge each sheet by about a third. Place a saucer in the corner of one sheet, cut around it with a knife, and repeat until you have 8 pastry circles. Cut 8 simple leaf-shaped decorations out of the excess pastry.
Place a small heap of kale in the centre of 4 of the circles and add a mushroom to each, lentil side down. Place the other circles on top (rolling them a little larger first if needed) and pinch the edges together with a fork. Trim off excess pastry and close any gaps as you go, ensuring there are no air bubbles around the mushrooms.
Gently press 2 pastry leaves onto each Wellington and bake for 30 to 35 minutes, until golden and crispy. Remove from the oven and let cool slightly before serving.
Adapted From a Recipe by Áine Carlin
Image courtesy of © Danielle Wood