Maisie Stedman's 'Jubilant' Vegan Zesty Meringue Stack
Vegan
Maisie Stedman's 'Jubilant' Vegan Zesty Meringue Stack
Maisie Stedman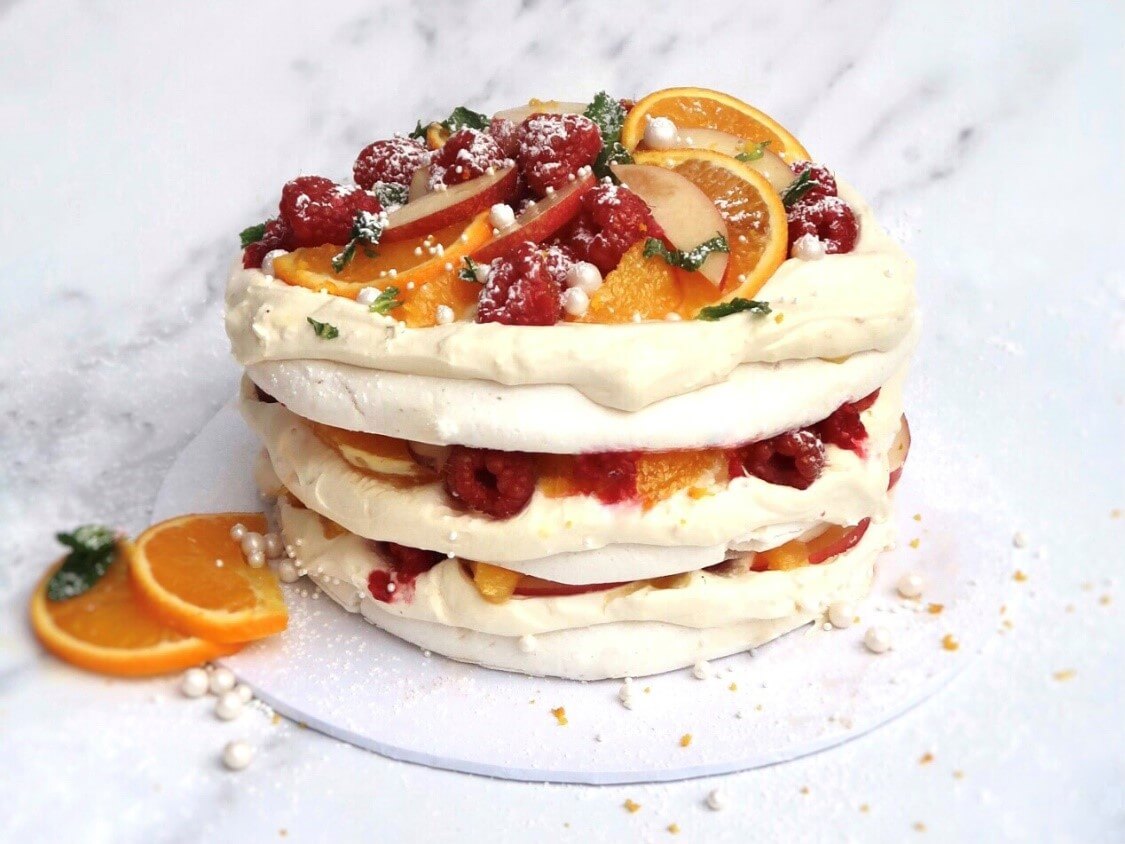 Prep Time

30m

Cook Time

3h

Servings

8
Ingredients
Chickpea water (aquafaba) from 1 400-g can of chickpeas (around 170 ml)

1/2 tsp cream of tartar

340 g caster sugar

500 ml vegan double cream

3 Tbsp icing sugar

2 tsp orange extract

Orange zest

A selection of fresh fruit (such as oranges, raspberries, and nectarines)

Fresh mint to garnish
Method
Preheat the oven to 80°C.
Using the base of a cake tin, trace 3 or 4 even-sized 6- or 8-inch circles onto baking paper and use to line baking trays.
Pour the aquafaba into a bowl and whisk until light, fluffy, and able to hold stiff peaks. Add the cream of tartar and whisk. Add the caster sugar a spoonful at a time and keep whisking.
Fill a piping bag with the meringue and squeeze out to fill out the pre-drawn circles on your baking trays.
Dry out in the warm oven for about two hours. When done, they should be crisp and easy to pull away from the paper. Turn the oven off but leave the meringues in for another hour to dry out further. Let cool.
Whip the vegan double cream with the icing sugar, the orange extract, and a generous grating of orange zest until thick.
Assemble on a plate or cake stand, alternating layers of meringue, whipped cream, and fruit, finishing with a generous pile of fruit. Dust with icing sugar, orange zest, and fresh mint to serve.