Lasagne With Cauliflower Sauce
Vegan
Lasagne With Cauliflower Sauce
An Ode to Mung Beans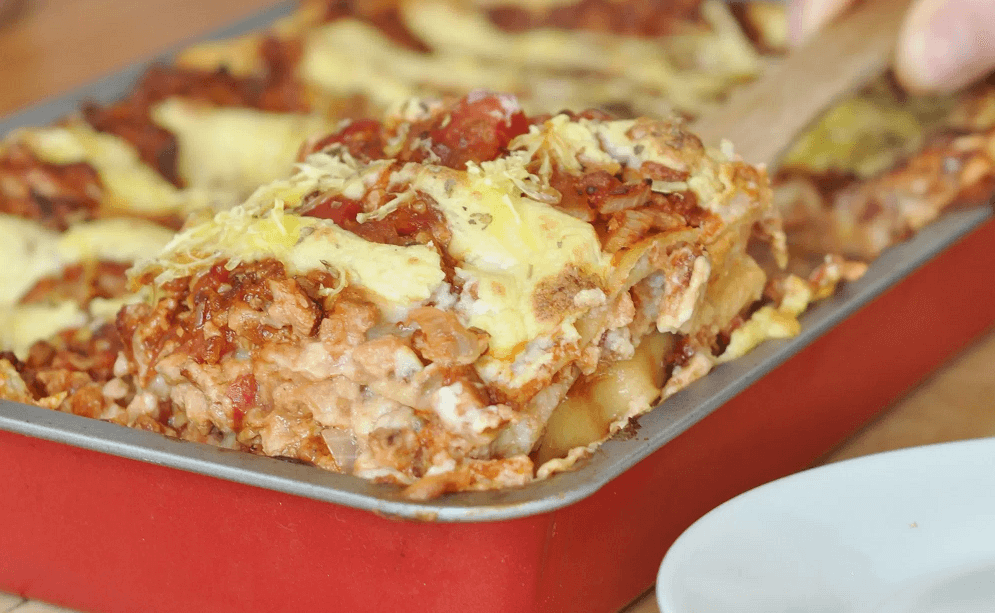 Prep Time

40m

Cook Time

30m

Servings

4
Ingredients
1 potato, peeled and quartered

1 cauliflower, cut into florets

2 Tbsp vegetable oil

1 onion, diced

3 cloves garlic, finely chopped

500 g frozen soya mince

2 tsp dried herbs of choice (e.g. sage and oregano), plus extra for topping

2 tins chopped tomatoes

1/4 cup soya milk

2 Tbsp nutritional yeast

1 tsp onion powder

Salt, to taste

Pepper, to taste

Lasagne sheets, cooked

Vegan cheese (optional)
Method
Preheat the oven to 200°C. Place the potato and cauliflower in a large saucepan, cover with water, and bring to the boil. Cook for 20 minutes, or until soft, then drain, reserving 3/4 cup of the cooking water, and set aside.
Heat 1 tablespoonful of the oil in a frying pan and sauté the onion and garlic until soft.
Add the soya mince and stir. Cook for about 5 minutes.
Add the herbs and tomatoes and cook for a further 10 minutes.
Using a blender or hand mixer, blend the remaining vegetable oil, the potato, cauliflower, reserved cooking water, soya milk, nutritional yeast, onion powder, salt, and pepper on high speed until smooth.
Spread a thin layer of the mince sauce in a baking dish. Cover with a layer of lasagne sheets. Spoon over a layer of cauliflower sauce. Repeat until both sauces have been used up.
If desired, top with vegan cheese and dried herbs.
Bake for 25 to 30 minutes, until golden.