Leek, Butter Bean, and Roasted Cauliflower Freekeh Salad
Vegan
Leek, Butter Bean, and Roasted Cauliflower Freekeh Salad
Sneaky Veg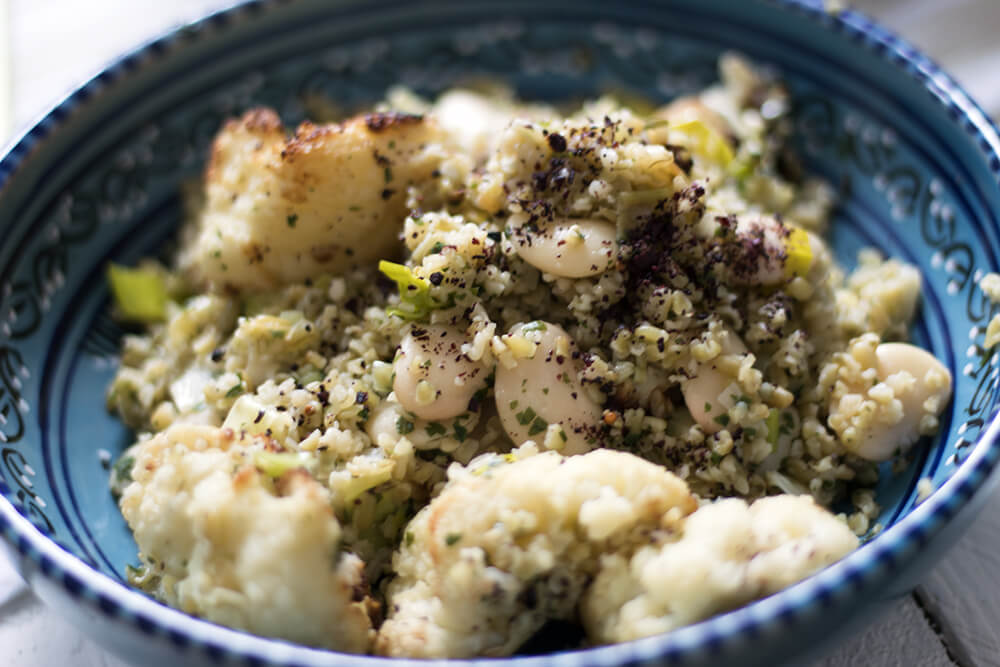 Prep Time

40m

Cook Time

10m

Servings

2
Ingredients
1 medium cauliflower, leaves removed, and broken into florets

2 Tbsp olive oil

1 tsp fennel seeds

700 ml water

200 g cracked freekeh

2 medium leeks, washed and sliced

2 cloves garlic, crushed

1 tin (400 g) butter beans

1 small handful flat-leaf parsley, finely chopped

1 tsp sumac

Salt

Pepper
Method
Preheat the oven to 180°C. Drizzle the cauliflower with 1 tablespoonful of olive oil, sprinkle with the fennel seeds, and roast in the oven for 35 to 40 minutes, turning halfway through.
Bring the water to the boil, add the freekeh, lower the heat, and simmer for about 15 minutes, or until soft.
Fry the leeks in the remaining olive oil, stirring often, until soft and translucent. Add the garlic and continue to cook for 2 minutes.
Add the cauliflower, freekeh, butter beans, and parsley and stir well.
Remove from the heat and season with sumac, salt, and pepper.