Oat and Almond Breakfast Muffins
Vegan
Oat and Almond Breakfast Muffins
The Little Blog of Vegan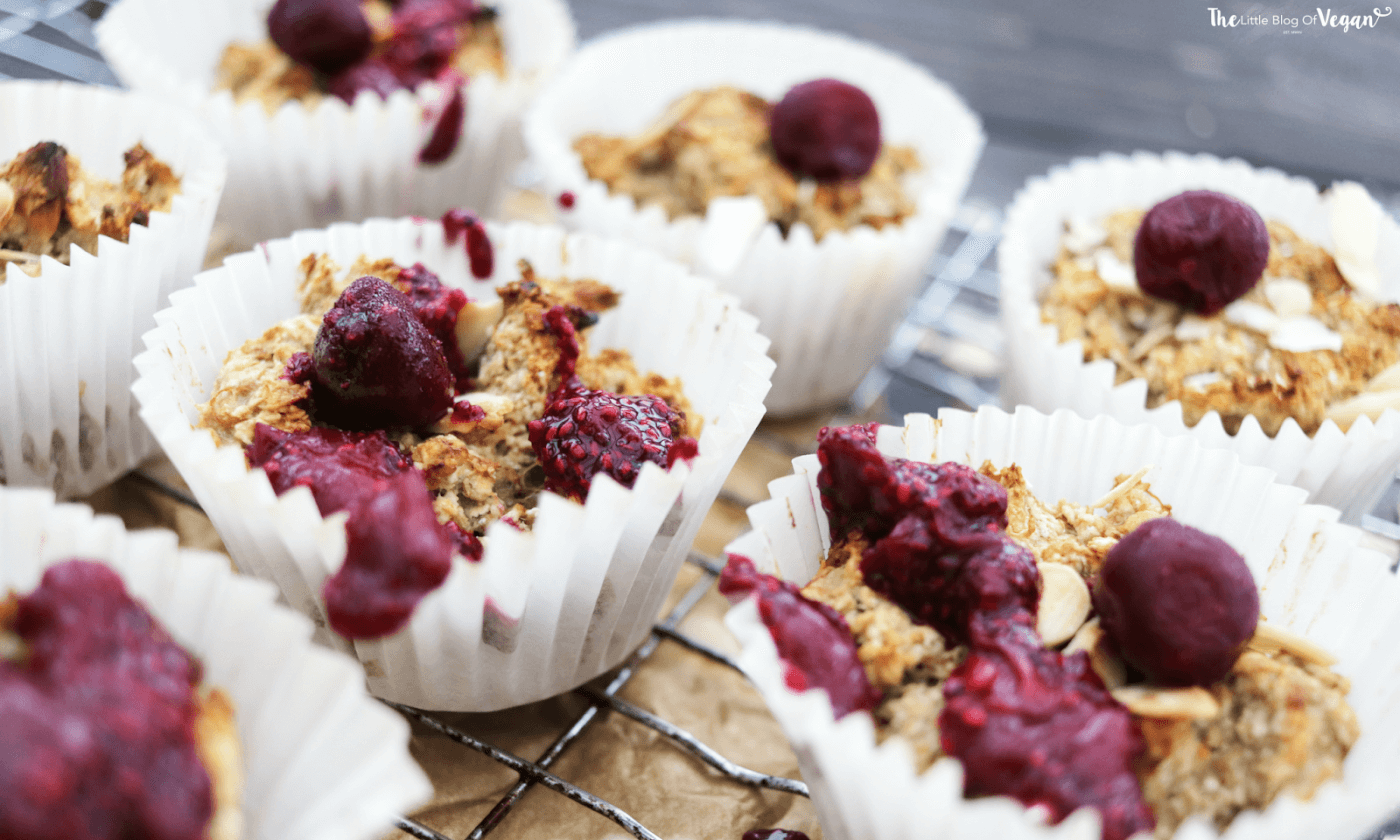 Prep Time

30m

Cook Time

25m

Servings

30
Ingredients
450 g oats

25 g flaked almonds

6 medium bananas, mashed

4 tsp maple syrup

80 ml water

60 ml coconut oil, melted

2 Tbsp + ¼ tsp almond extract

140 g frozen cherries

1 Tbsp maple syrup

1 1/2 Tbsp chia seeds
Method
Preheat the oven to 185° and line enough muffin tins for 30 muffins with cases.
Pour the oats into a large mixing bowl, add the flaked almonds, and combine.
In a separate mixing bowl, combine the mashed bananas, maple syrup, water, coconut oil, and 2 tablespoonsful of almond extract.
Pour the wet mixture into the dry mixture and combine fully.
Scoop out equal amounts into the muffin cases.
Put the muffin tins in the oven and bake for 20 to 25 minutes. Check to see if they're done after 20 minutes by inserting a skewer or knife into the centre of the muffins – if it comes out clean, they're done. If not, pop them back into the oven for a few more minutes.
Remove from the oven, place the muffins on a cooling rack, and allow to cool.
Place the cherries in a small saucepan along with the maple syrup and remaining almond extract.
Cook over medium heat until the cherries begin to soften then mash with a fork or potato masher. Mix in the chia seeds and cook a little longer.
Allow to cool then pop it into the fridge for 30 minutes to thicken.
Plate the muffins and drizzle with the cherry compote. Sprinkle with flaked almonds and chia seeds (optional).