Vegan
Pad Thai Salad
The Whole Ingredient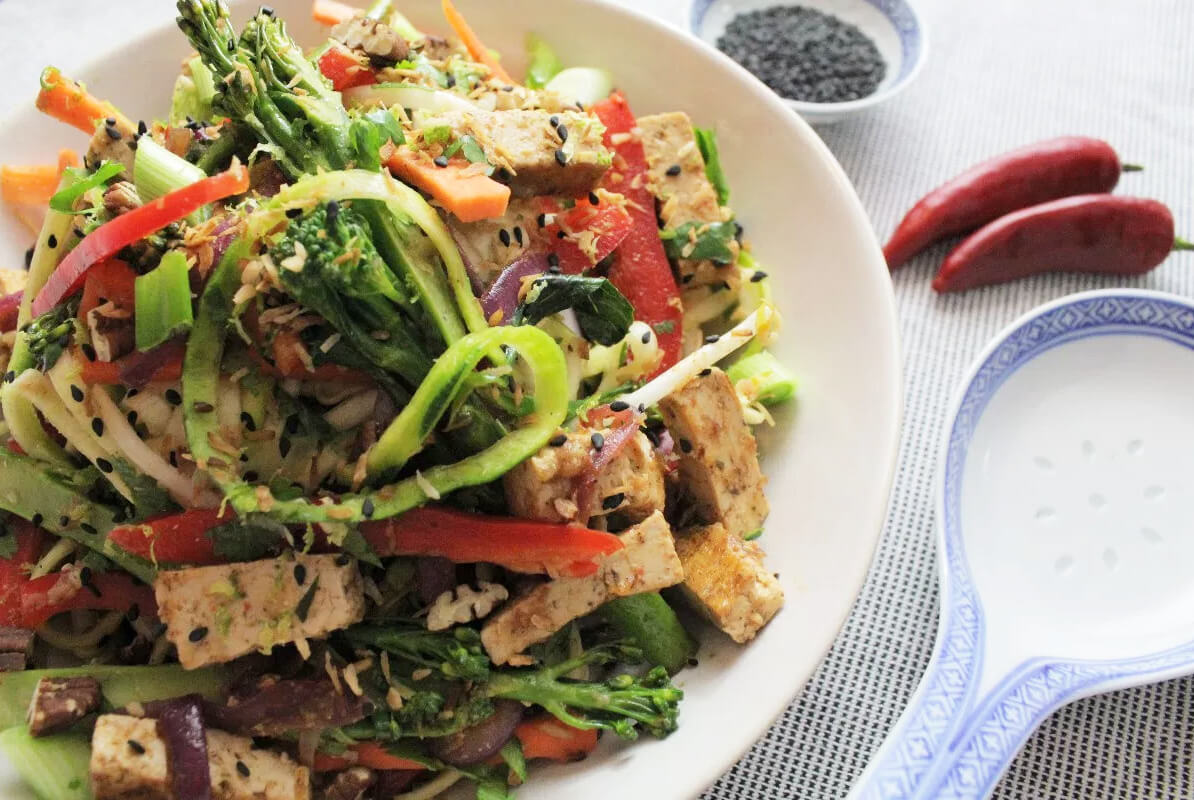 Prep Time

15m

Cook Time

15m

Servings

2
Ingredients
60 ml water

3 Tbsp apple cider vinegar

2 Tbsp soy sauce

Zest and juice of 1 lime

1 red chilli

1/2 tsp cayenne pepper

4 dates, pitted

1 pinch black pepper

1 block firm tofu, cut into 1-cm cubes

1 red pepper, de-seeded and thinly sliced

1 medium carrot, sliced

15 g fresh coriander, chopped

4 spring onions, sliced

150 g bean sprouts

10 g black sesame seeds

1 squeeze lime juice

25 g pecans, chopped

30 g desiccated coconut

1 tsp coconut oil

6 cloves garlic, minced

1 red onion, thinly sliced

200 g tenderstem broccoli

Extra toasted pecans and coconut, for garnish
Method
Make a marinade by processing the water, vinegar, soy sauce, zest and juice of 1 lime, chilli, cayenne pepper, dates, and black pepper in a food processor.
Pour over the tofu and refrigerate for 1 hour.
Combine the pepper, carrot, coriander, spring onions, bean sprouts, black sesame seeds, and 1 squeeze of lime juice in a large bowl.
Heat a large frying pan on the hob over medium heat. Toast the pecans until just turning brown. Add the desiccated coconut and continue to toast until browned. Remove from the pan and set aside.
Add the coconut oil to the pan and fry the garlic and red onion until just beginning to soften and brown.
Stir in the marinated tofu.
Add the broccolini and cook until tender.
Stir the cooked and raw ingredients together and serve with a sprinkling of toasted pecans and coconut.