Vegan
Pea and Basil Soup
Vegan Lass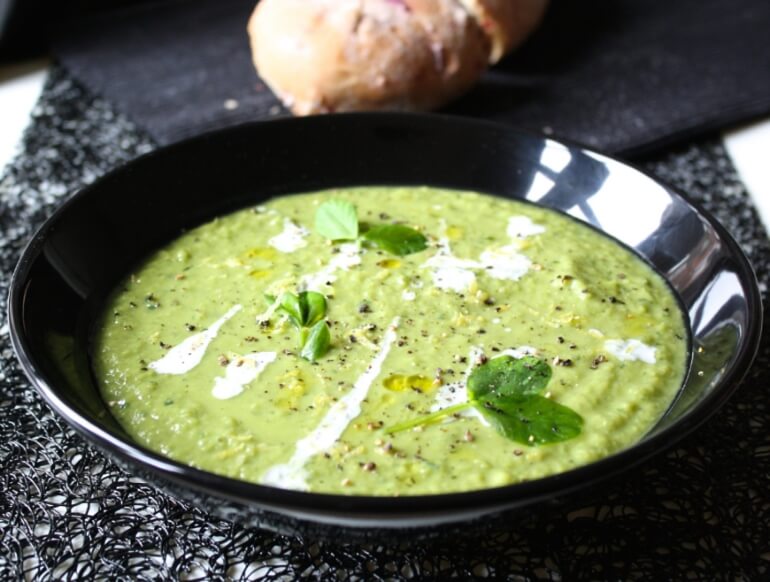 Prep Time

10m

Cook Time

35m

Servings

4
Ingredients
3 Tbsp olive oil

1/2 brown onion, diced

6 cloves garlic, chopped

1 kg frozen peas

700 ml vegetable stock

500 ml non-dairy milk

Juice of 2 lemons

1 pinch salt

2 pinches pepper

45 g basil, torn

100 ml vegan cream

Zest of one lemon

1 handful pea shoots
Method
Heat 2 tablespoonsful of the olive oil in a large saucepan or pot over medium-high heat. Add the onion and garlic and fry until translucent.
Add the peas and fry for about 1 minute.
Add the stock, non-dairy milk, and juice of 1 lemon. Bring to the boil, then reduce the heat to low-medium. Simmer for 20 to 30 minutes until the peas are soft but still bright green.
Remove from the heat and blend to the desired consistency.
Add the salt, 1 pinch of the pepper, and the remaining lemon juice. Add the basil and blend again until incorporated.
To serve, top with the remaining olive oil and pepper and the vegan cream, lemon zest, and pea shoots.