Vegan
Pizza
The Rose & Bean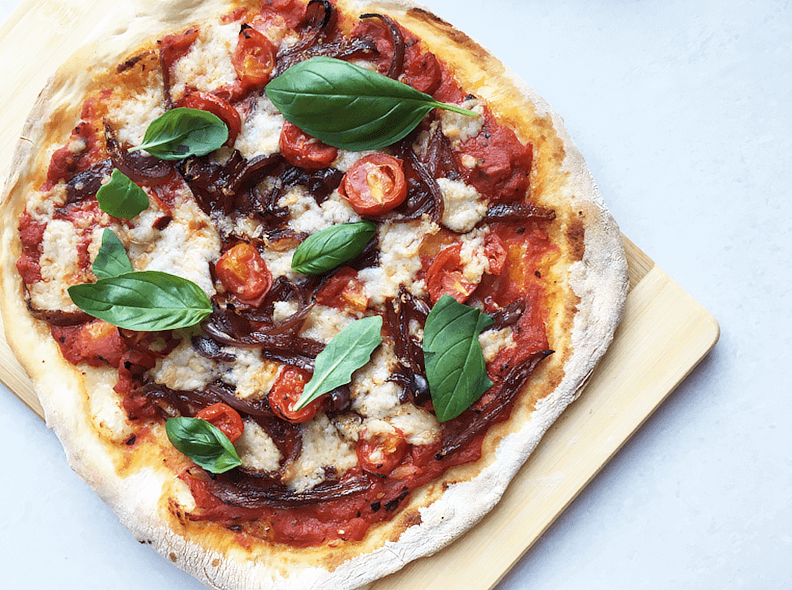 Prep Time

1h 45m

Cook Time

20m

Servings

2
Ingredients
7 g (1 sachet) fast-acting yeast

150 ml lukewarm water

350 g plain flour

6 g salt, plus more for seasoning

4 tsp olive oil

1 tin (400 g) chopped tomatoes

3 cloves garlic, minced

1 handful basil

Pepper, to taste

Vegan cheese

Toppings of your choice
Method
In a small bowl, combine the yeast and water. Let sit for 5 minutes.
In a large bowl, combine the flour, salt, olive oil, and yeast mixture.
Using an electric mixer with a dough hook, mix for 7 to 8 minutes, until no longer sticky, or knead for 10 to 12 minutes by hand. Stretch a small piece of dough into a thin circle and hold it up to the light – if it's translucent, it's ready.
Place the dough on a lightly floured worktop and gently form into a ball. Return to the bowl.
Cover with cling film and let rest for about 1 hour, until doubled in size.
Combine the chopped tomatoes, minced garlic, basil, salt, and pepper in a heavy-bottomed saucepan over a medium heat. Stir and bring to a boil then reduce the heat and simmer for 10 minutes.
Pour into a blender and blend until smooth, if desired.
Preheat the oven to the highest temperature. (For a crispy base, leave the tray in the oven to warm.)
Place the dough on a floured surface. Cut in half to make 2 pizzas.
Shape each piece into a ball using your hands, then roll out into a flat, round pizza shape.
Ladle the sauce onto the dough then sprinkle with vegan cheese and your choice of toppings.
Place in the oven and reduce the temperature to 180°C. Cook for 8 to 10 minutes, until the base is golden and crispy.
Remove from the oven and serve immediately.