Quesadilla with Butternut Squash Cheese and Mango
Vegan
Quesadilla with Butternut Squash Cheese and Mango
An Ode to Mung Beans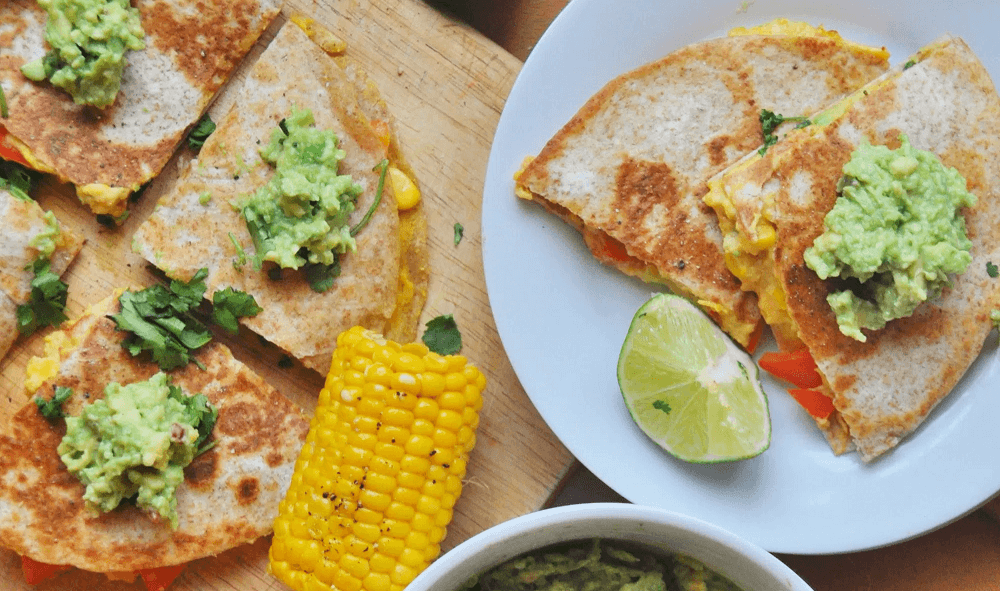 Prep Time

30m

Cook Time

5m

Servings

4
Ingredients
1 cup raw cashews (soaked for at least 1 hour then drained)

1/4 cup water

1/4 cup nutritional yeast

1 Tbsp lemon juice

1 clove garlic

1 tsp vinegar

1 Tbsp Dijon mustard

Salt, to taste

Pepper, to taste

1 cup roasted butternut squash chunks

4 flour tortillas

2 avocados

1 red pepper, thinly sliced

1 mango, thinly sliced

100 g sweetcorn

1 handful fresh coriander, coarsely chopped

1 handful vegan cheese, grated (optional)

1 tsp vegetable oil

1/2 red chilli, deseeded and finely chopped

Juice of 1/2 lime
Method
To make the "cheese", blend the cashews, water, nutritional yeast, lemon juice, garlic, vinegar, mustard, and a pinch of salt and pepper in a food processor until smooth. Then add the squash and blend again. Spread onto 2 of the tortillas.
Slice an avocado and arrange one-half on each of the 2 tortillas along with the pepper, mango, sweetcorn, coriander, a pinch of salt and pepper, and vegan cheese (if using). Cover with the other 2 tortillas.
Warm the vegetable oil in a large frying pan over medium-high heat. Transfer the quesadillas into the pan one at a time and cook until golden-brown underneath. Flip carefully and do the same on the other side.
To make the guacamole, mash the remaining avocado, chilli, lime juice, and a pinch of salt and pepper with a fork. Spoon over the quesadillas, cut each in half, and serve.