Shakshuka with Scrambled Tofu
Vegan
Shakshuka with Scrambled Tofu
Interserve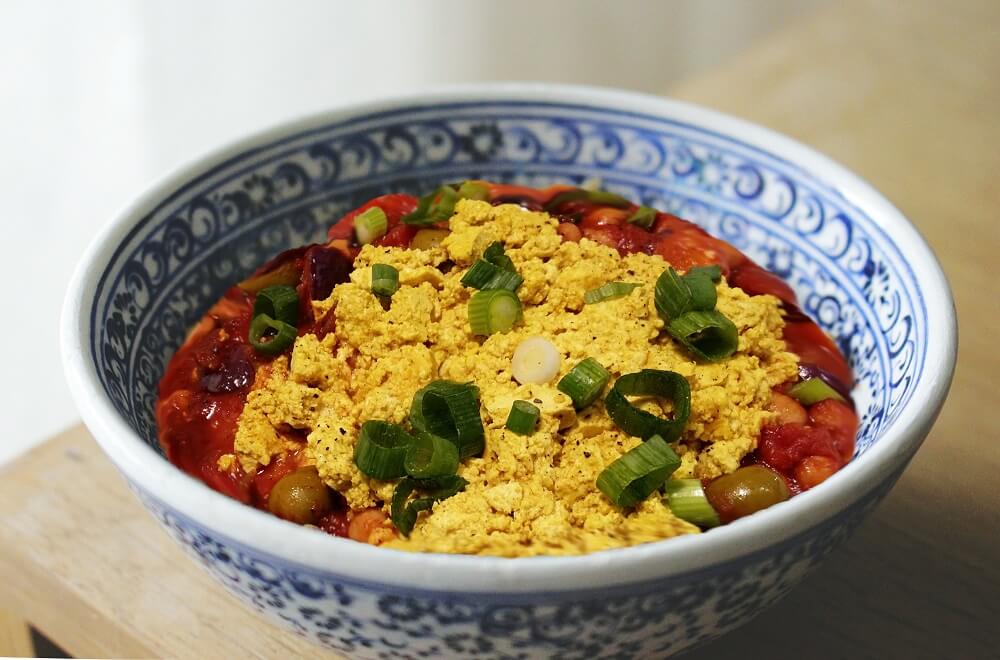 Prep Time

10m

Cook Time

45m

Servings

10
Ingredients
115 ml

olive oil

2

red onions, chopped

2

cloves garlic, finely chopped

1 tsp

paprika

1 tsp

cayenne pepper

1 tsp

ground cumin

3 Tbsp

tomato purée

2 tins

chopped tomatoes

1 tin

chickpeas, drained and rinsed

20

pitted green olives

1½ tsp

salt

1

red pepper, diced

2 packs

firm tofu, drained

½ tsp

turmeric

Optional: chopped spring onions, to serve
Method
Heat 100 millilitres of the oil in a large frying pan, add the onion, and cook until soft.
Add the garlic and cook for 3 to 4 minutes.
Add the paprika, cayenne pepper, and cumin and cook for 5 minutes.
Add the tomato purée and cook for 5 minutes.
Add the chopped tomatoes and cook for 10 minutes.
Add the chickpeas, olives, and 1 teaspoonful of salt and cook for 5 minutes.
Add the pepper, cook for 5 more minutes, then remove from the heat.
Place the tofu, turmeric, and the remaining salt in a bowl and "scramble" using a whisk.
Heat the remaining oil in another pan, add the scrambled tofu, and fry over low heat for 5 minutes.
Adapted From a Recipe by Interserve
Interserve Group Limited, the international support services, construction and equipment services group, supplies award-winning catering services via its Autograph brand. Autograph serves delicious, nutritious and creative food to more than 300 locations up and down the country, from schools and colleges to hospitals and workplaces.