Spiced Porridge With Grilled Pears
Vegan
Spiced Porridge With Grilled Pears
Wrapped in Newspaper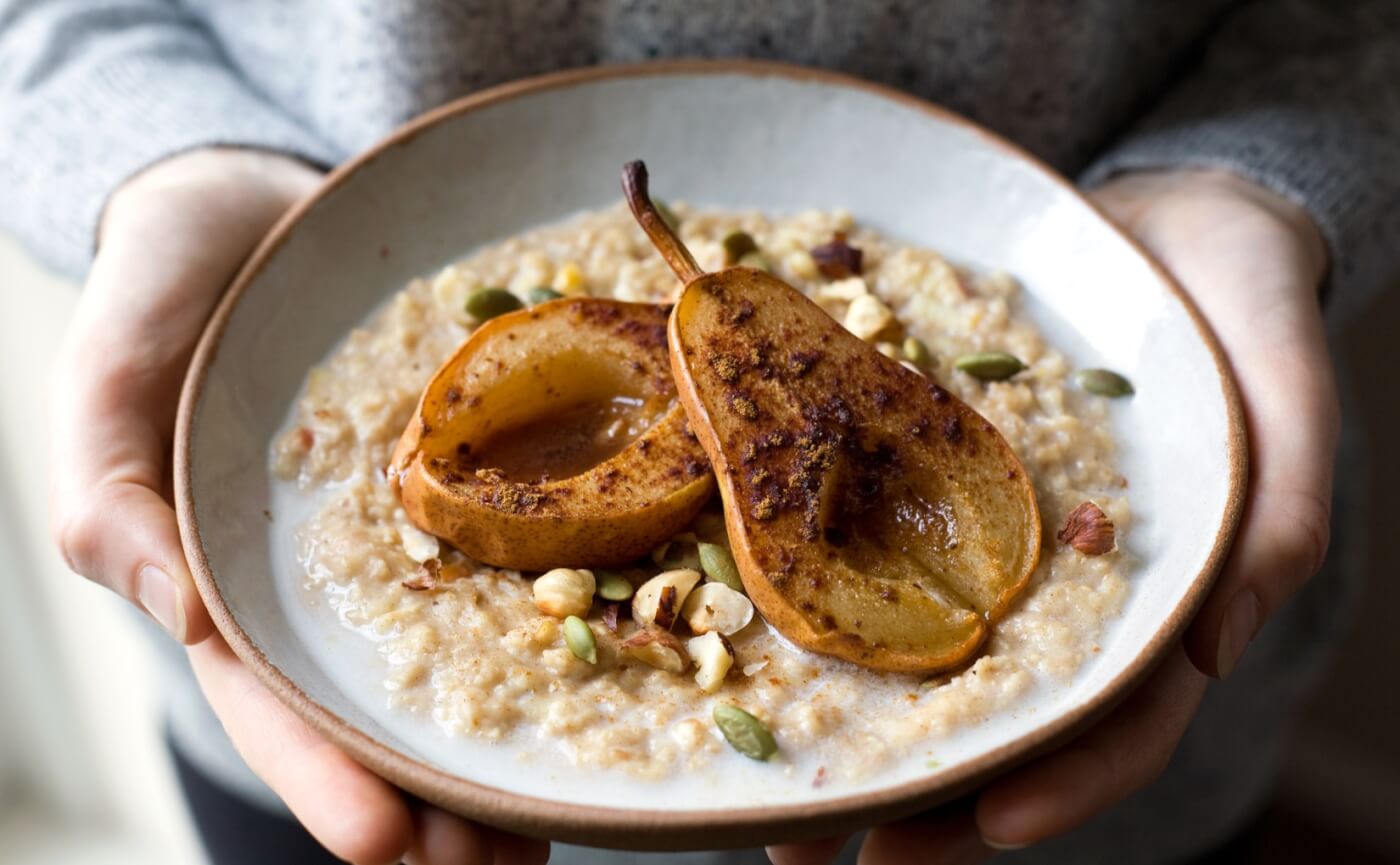 Prep Time

5m

Cook Time

25m

Servings

2
Ingredients
2

pears, washed, halved lengthways, and cored

Coconut sugar

Ground cinnamon

Ground cloves

Ground nutmeg

80 g

porridge oats

300 ml

non-dairy milk

1

apple

1 Tbsp

hazelnuts

1 Tbsp

pumpkin seeds

50 ml

water
Method
Preheat the grill on a medium-high setting. Place the pears on a baking tray and sprinkle with a pinch of coconut sugar, cinnamon, cloves, and nutmeg. Grill for 20 to 25 minutes.
Meanwhile, combine the oats, 1/2 teaspoonful of cinnamon, a pinch of cloves and nutmeg, and the non-dairy milk in a saucepan over medium-low heat.
Wash and grate the apple, then add to the saucepan straight away. Stir.
Put a frying pan over high heat and add the hazelnuts. Shake occasionally to prevent burning, until the skins start to peel away. Transfer onto a piece of kitchen towel and let cool.
Toast the pumpkin seeds in the same pan, shaking until they start to pop, then transfer into a bowl to cool.
Rub the hazelnuts with the kitchen towel to remove the skins, then coarsely chop.
When the porridge starts to thicken, add some water (up to 50 ml), if needed, to achieve your desired consistency. After cooking for 15 to 20 minutes, pour into two bowls and top with the hazelnuts, pumpkin seeds, and grilled pears.