Vegan
Sticky Toffee Pudding
Vegan Lass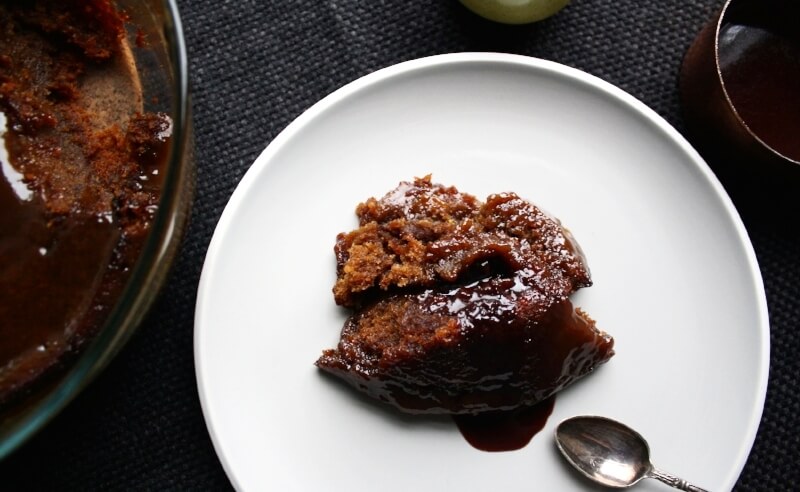 Prep Time

1h

Cook Time

40m

Servings

6
Ingredients
230 g pitted medjool dates, finely chopped

180 ml boiling water

1 tsp vanilla extract

185 ml soya milk

3 Tbsp golden syrup

5 Tbsp black treacle

145 g vegan butter, plus extra for greasing

290 g demerara sugar

30 g muscovado sugar

175 g self-raising flour

1 tsp bicarbonate of soda

3/4 tsp fine sea salt

250 ml unsweetened vegan cream

Ice cream, optional
Method
Place the chopped dates in a bowl and cover with the boiling water. Let soak for about 40 minutes, until soft, and drain. Blend into a fine paste in a food processor or electric hand mixer, adding the vanilla extract halfway through.
Preheat the oven to 175°C. Lightly grease a large dish or 6 small pudding tins.
Place the soya milk, 1 tablespoonful of golden syrup, 3 tablespoonsful of black treacle, 85 g vegan butter, 110 g demerara sugar, and the muscovado sugar in a medium-sized saucepan. Over medium heat, stir occasionally until the vegan butter has melted and the sugar has dissolved. Remove from the heat and let cool for 10 minutes before stirring in the date-and-vanilla mixture.
Sift the self-raising flour, bicarbonate of soda, and 1/2 teaspoonful of salt into a large bowl and mix thoroughly. Make a well in the centre and pour in the wet ingredients, stirring continuously until well combined and smooth. Pour into the greased dish or tins.
Place in the oven immediately and bake for 20 to 25 minutes, or until golden brown.
Place the remaining golden syrup, black treacle, vegan butter, demerara sugar, and salt with 125 ml vegan cream in a small saucepan. Over medium-high heat, bring to a boil, stirring frequently. Heat for another 5 to 6 minutes, until brown and toffee-like. Remove from the heat and whisk in the remaining vegan cream.
Pour over the top and sides of the baked pudding.
Return to the oven at 175°C for a few minutes, until heated through and the toffee sauce is bubbling. Serve with ice cream, if desired.