Sweet Potato Rösti with Avocado, Coriander, and Chilli
The new cookbook Linda McCartney's Family Kitchen by Linda, Paul, Mary, and Stella McCartney has over 90 vegan dishes – and this recipe is adapted from one of them!
Linda McCartney
Traditionally eaten for breakfast, röstis are a great start to the day. These ones, made with sweet potato, are packed with flavour and so moreish, and they're a great source of minerals and vitamins, particularly C and E. They're also rich in fibre, which is great for the digestive system. And the best thing of all? All the veggies in this count towards your five a day.
Vegan
Sweet Potato Rösti with Avocado, Coriander, and Chilli
Linda McCartney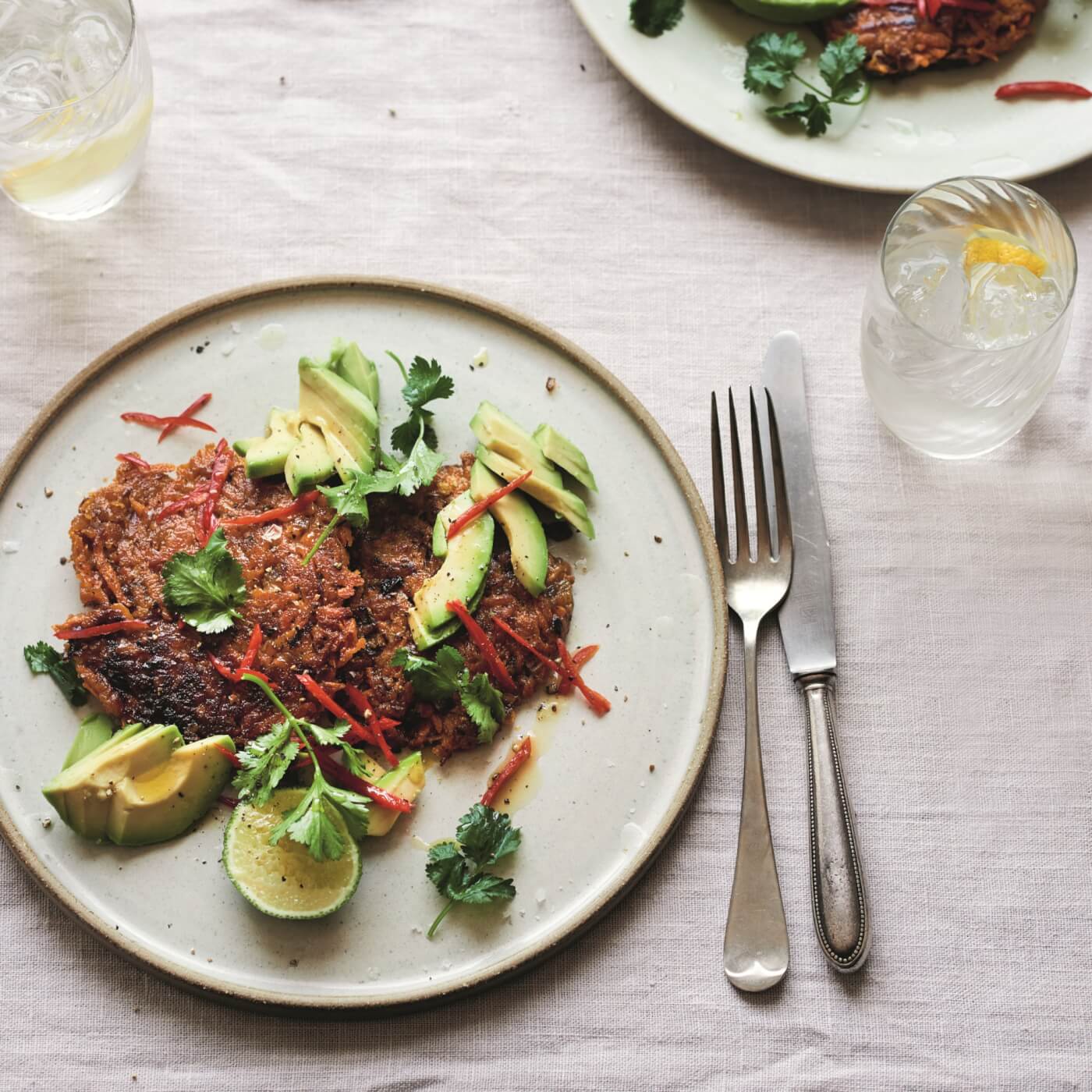 Prep Time

10m

Cook Time

20m

Servings

4
Ingredients
600 g

sweet potato, peeled and coarsely grated

1

medium red onion, peeled and very finely chopped

2

medium garlic cloves, peeled and crushed

1

tsp cumin seeds or ground cumin

1

tsp ground coriander

1/2 tsp

ground cinnamon

5 Tbsp

chickpea flour or plain flour

5 Tbsp

extra-virgin olive oil

2 tsp

sea salt

1/2 tsp

freshly ground black pepper

2

ripe avocados, peeled, destoned, and sliced

1

handful coriander leaves, chopped

1

red chilli, deseeded and thinly sliced

Lime wedges (optional)
Method
Place the sweet potato on a clean tea towel, gather up the corners, and twist to squeeze out as much liquid as possible.
Tip into a bowl and mix in the red onion, garlic, cumin, coriander, cinnamon, flour, and 4 tablespoonfuls of the olive oil. Season with the salt and pepper and use clean hands to bring everything together.
Add the remaining oil to a large non-stick pan and place it over medium-low heat. Take 2 tablespoonfuls of the sweet potato mixture in your hand and tightly compact it into a ball, then gently flatten it into a disc and place it in the hot pan. Repeat with more of the mixture, taking care not to overcrowd the pan. Fry the röstis for 4 to 5 minutes, then gently flip over and fry for an additional 4 to 5 minutes, until golden on both sides and cooked through. Transfer to a plate and continue until you've used all the mixture, adding more oil to the pan as needed.
Top with the avocado, coriander leaves, and chilli and season to taste. Drizzle with a little more olive oil and serve immediately with lime wedges (if desired).