Victoria Summer's 'V' Burger
This easy dish from actor Victoria Summer is sure to become a weeknight favourite. Made with a gluten-free bun and the deliciously meaty Beyond Burger, it's comfort food that everyone will love.
Vegan
Victoria Summer's 'V' Burger
Victoria Summer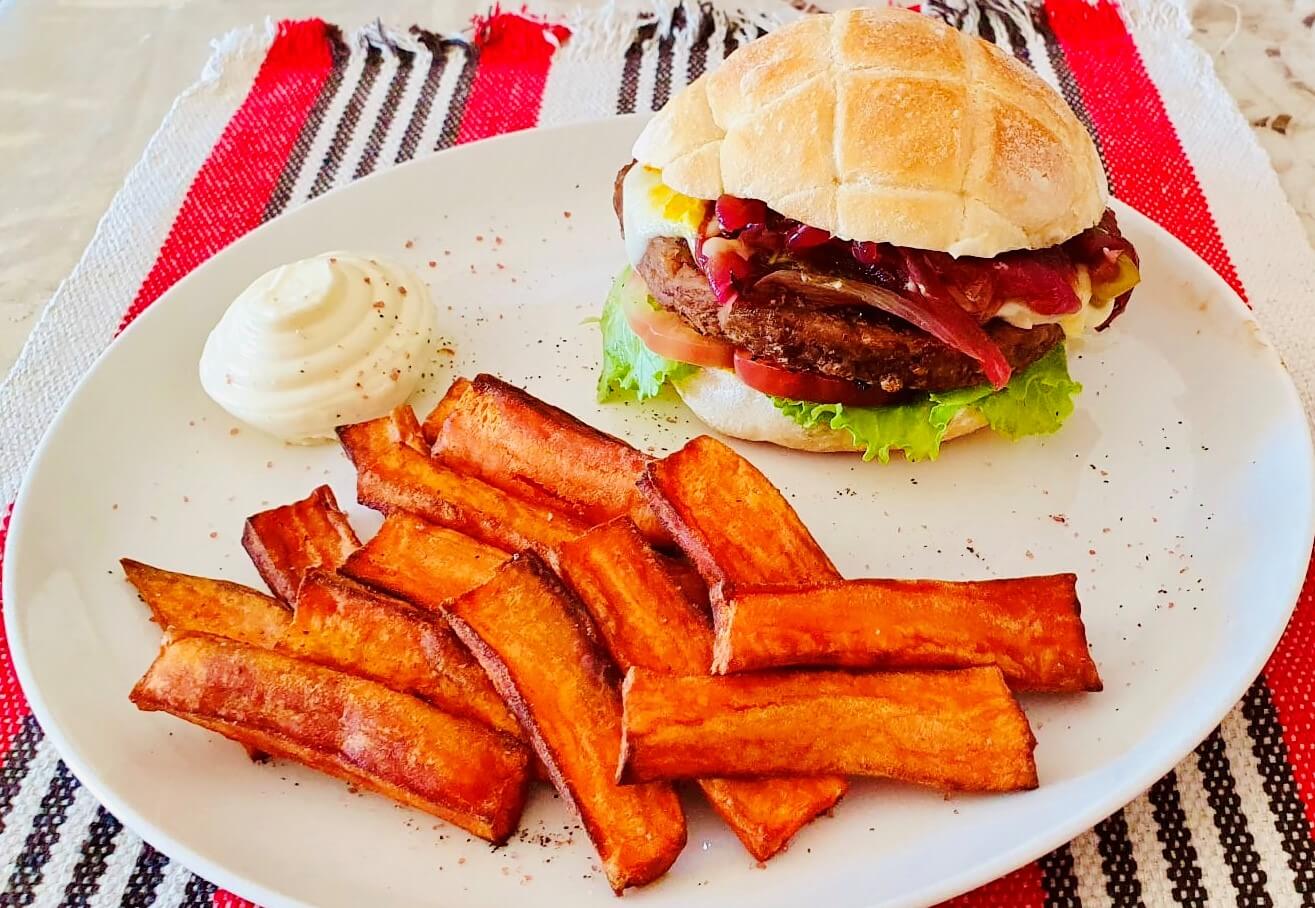 Prep Time

5m

Cook Time

25m

Servings

1
Ingredients
300 g sweet potato, peeled and cut into thick chips

1/2 tsp Himalayan pink salt

1/2 tsp black pepper

2 Tbsp olive oil

1 red onion, thinly sliced

1 green pepper, thinly sliced

1 Beyond Burger patty

1 slice vegan cheese

1 vegan, gluten-free burger bun

2 Tbsp vegan mayonnaise

1/2 tsp turmeric

1 leaf iceberg lettuce

1 tomato, thinly sliced
Method
Preheat the oven to 180°C.
Toss the sweet potato with the salt, the pepper, and 1 tablespoonful of the olive oil. Place on a baking sheet and bake for 10 minutes. Flip and bake for a further 15 minutes or until crispy.
Heat the other tablespoonful of olive oil in a pan and add the onion and green pepper. Cook over a low heat until the onion is caramelised.
In another pan, fry the Beyond Burger patty, following the packet instructions. Top with the vegan cheese and place a lid on the pan until the cheese melts.
Coat the inside of the bun with 1 tablespoonful of the vegan mayonnaise and sprinkle over the turmeric. Top the bottom half with the lettuce, the tomato, the Beyond Burger patty, the onion-pepper mixture, and the other half of the bun. Serve with the sweet potato chips and the remaining vegan mayonnaise as a dip.