White Chocolate and Raspberry Toasties
Vegan
White Chocolate and Raspberry Toasties
The Rose & Bean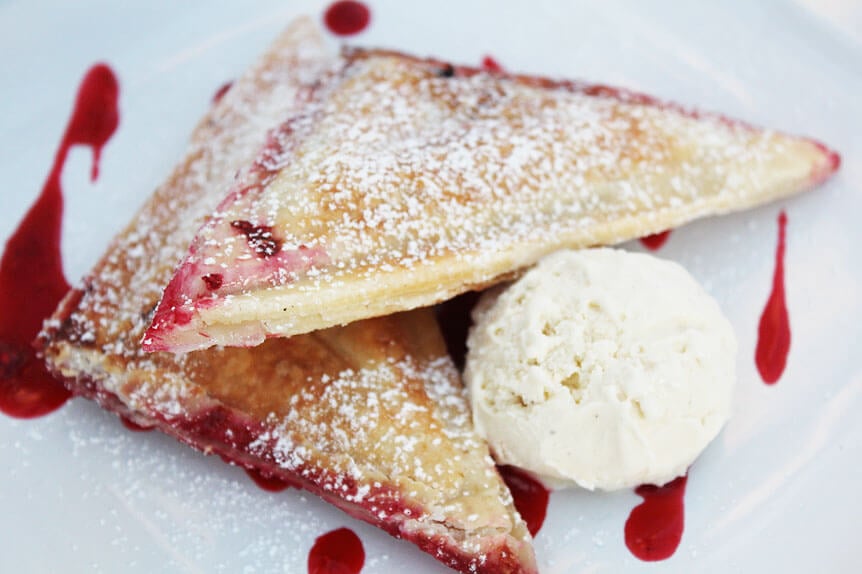 Prep Time

5m

Cook Time

45m

Servings

2
Ingredients
100 g frozen raspberries

25 g caster sugar

3 tsp vanilla extract

1 roll frozen puff pastry, thawed

2 tsp vegan butter, melted

25 g vegan white chocolate chips

Icing sugar, optional

Vegan ice cream, optional
Method
Cook the raspberries, caster sugar, and vanilla extract in a saucepan over low heat, stirring, until the sugar melts and the raspberries turn glossy.
Remove from the heat, and separate the raspberries from the sauce, using a slotted spoon. Set
Roll out the puff pastry and cut out 4 squares to fit in a toastie maker.
Lightly grease the toastie maker with the melted butter, then heat.
Place 1 square of the puff pastry in the toastie Top with 1/2 of the raspberries, and sprinkle with the vegan white chocolate chips. Place another piece of puff pastry on top, close the toastie maker, and cook until golden brown.
Repeat with the remaining puff pastry squares, raspberries, and vegan white chocolate chips.
Serve with the raspberry sauce, and top with a sprinkle of icing sugar and a scoop of ice cream, if using.