'V for Vegan': PETA Stands With Stella McCartney's Fashion Manifesto
The future of fashion is vegan, and Stella McCartney knows it. PETA is proud to stand with the iconic British designer leading the vegan revolution.
The letter "V" in her A to Z manifesto stands for vegan, and we're in love with the over-the-knee vegan leather boots she's chosen to showcase for it.
Since day one, Stella's fashion house has been leather-free, acknowledging that animals should not be killed for fashion.
Vegan Fashion Saves Lives
Our daily choices are a matter of life and death for animals exploited and killed for fashion. Every vegan leather bag, jacket, or pair of boots we choose over an item made from real skin spares cows and other animals the misery of being abused by the leather industry.
"We recently worked out that through our Falabella handbag sales alone since we launched the bag in 2009, we have saved approximately 300,000 to 400,000 cows from being killed, which is an incredible number that makes me so proud, but it's a bittersweet feeling because it makes me think of the millions and millions of poor innocent animals that have died for the sake of handbags alone in the fashion industry."

– Stella McCartney

V for Vegan
Today, vegan leather is being made from innovative, sustainable materials, including pineapple leaves, cork, apple peels, other fruit waste, and recycled plastic, and the list of designers using it in their collections is growing.
"It's funny to think when I first started out on this journey 20 years ago, I was the outsider, the eco-weirdo, I was told that I would never have a successful luxury business if I didn't use leather, but I think 20 years later, I have shown that you can have a healthy, global business without having to sacrifice style for sustainability."

– Stella McCartney
Vegan leather is versatile. From boots to biker jackets in every cut and colour to the perfect little black dress, you can get a cruelty-free version of any fashion item.
"I have confidence that through the amazing work PETA are doing, and the noise we try to make here at Stella McCartney, along with other animal-free advocates in the fashion industry ([the number] of which [is] growing!), that one day we will convince the world that vegetarian fashion is not only viable, but very, very desirable."

– Stella McCartney
Leather Production: ALWAYS Cruel, NEVER Sustainable
More than a billion cows, pigs, goats, sheep, alligators, ostriches, kangaroos, and even dogs and cats are slaughtered for their skins every year. The tails and horns of many of these animals are cut off, and some are even skinned and cut apart while still conscious.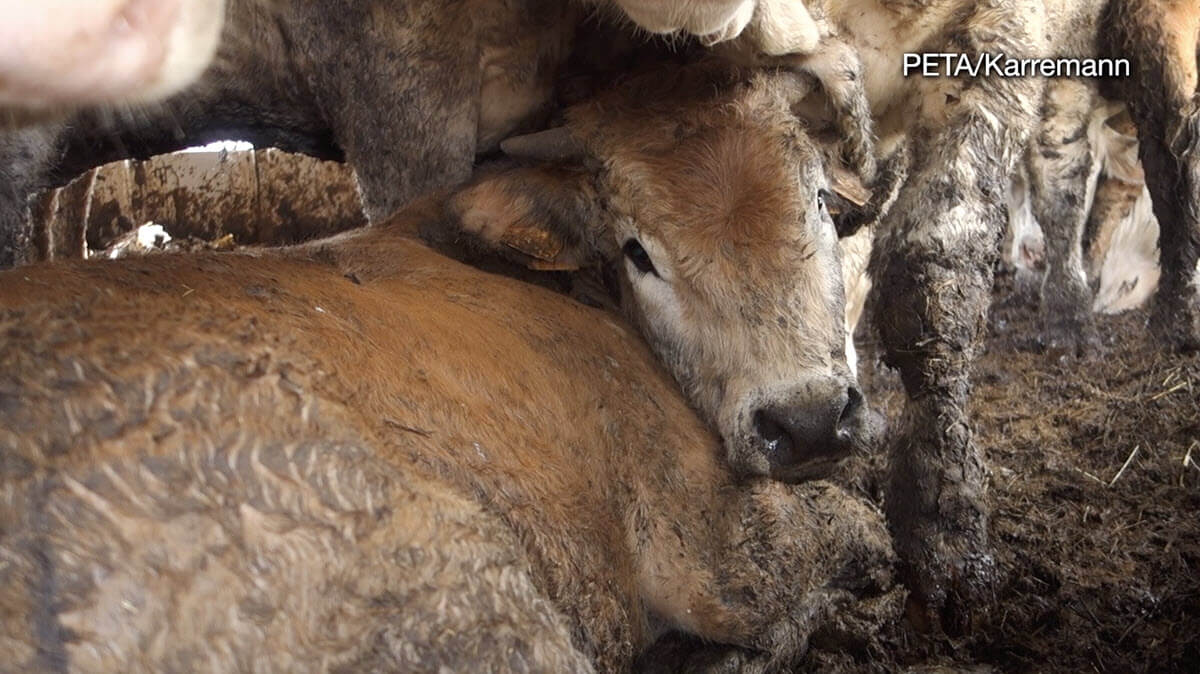 By contrast, vegan leather offers a killer look without any killing.
Sustainable vegan leather is the best option for the planet, too. Turning animal skin into leather takes loads of energy and a toxic brew of chemicals – including mineral salts, coal-tar derivatives, formaldehyde, oils, dyes, and finishes, some of them cyanide-based.
"We must dispel the myth that leather is a by-product of the meat industry and therefore sustainable or acceptable."

– Stella McCartney
Tannery waste contains water-fouling salt, lime sludge, sulphides, acids, and other pollutants. The demand for leather also fuels the destruction of the Amazon rainforest, as Brazilian cattle ranchers supply leather to leading global fashion brands and retailers.
Because of the massive amounts of manure and slaughter waste, intensive water use, deforestation, and greenhouse-gas emissions involved in its production, leather is the most environmentally damaging material, as confirmed by the 2017 "Pulse of the Fashion Industry" report.
Over Two Decades of Compassion in Fashion
From shedding light on the leather industry's dark secrets in a PETA exposé to creating colourful, fun-filled catwalks with animal rights messages, Stella has always been flying the flag for compassion in fashion:
"I first started working with PETA in 1998, and am incredibly proud to still be working so closely 22 years later. I have a huge admiration for all the work they are doing in support of animal rights, especially when it comes to the endless work they are doing around the fashion industry's barbaric use of animals for clothing and accessories."
Play Your Part
Be loud and proud! Tell everyone you know why leather production is cruel, and of course, never buy anything made from an animal's skin.