PETA US Becomes boohoo Shareholder to Push for Reinstatement of Wool Ban
As boohoo group didn't keep its promise to ban wool, despite knowing that sheep are subjected to shocking, systemic cruelty in the wool industry – and that wool is one of the most environmentally damaging materials – PETA US has become a shareholder in the company so that its representatives can attend the annual general meeting later this year, speak to other shareholders and executives, and call for the retailer to commit to finally banning wool.
The move is part of the campaign urging the global retailer to stand by its original decision to ban wool. The group – which includes the brands boohoo, boohooMAN, MissPap, PrettyLittleThing, and Nasty Gal – previously told PETA that "as of AW19/20, we will not knowingly source any wool products" but has since gone back on that pledge.
It's time boohoo group proved that it's a real leader in global retail by standing by its compassionate initial decision to ban wool. As a shareholder, PETA US will be able to push the retailer's management to do the responsible thing for shareholders and animals alike by showing that no jumper or scarf is worth kicking, punching, and killing gentle sheep on the shearing floor.
Wool Production Is Cruel
Since 2014, PETA has released 11 exposés of 99 wool industry facilities on four continents, including in the UK, and systemic abuse was found in every one. On farms across England and Scotland, shearers were found punching sheep in the face, stamping and standing on their heads and necks, and beating them with electric clippers. Several sheep died of apparent stress during and following shearing, and one farmer was recorded dragging two ailing sheep into a shed, where he left them to suffer and die.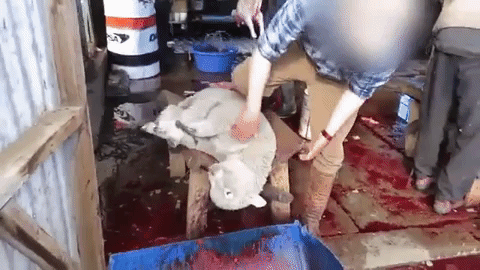 The Industry Has a Huge Environmental Impact
The wool industry also wreaks havoc on the environment: manure generated by animals exploited on farms has significantly contributed to the increase in atmospheric greenhouse gases, large-scale grazing has led to vegetation change and soil erosion, and faecal matter and sheep "dip" (a toxic chemical used to rid sheep of parasites) pollute local waterways.
What You Can Do for Lambs and Sheep
Please take the following actions to help animals suffering in the wool industry:
Ask boohoo to stand by its initial compassionate decision to become the first global fashion brand to ban wool:
Leave a comment under the retailer's latest Facebook and Instagram posts asking it to reinstate its wool ban.
Tell all your friends about abuse in the wool industry, show them our 11 videos, and ask them never to wear the cruelly obtained material.
Inform your friends about the wool industry's negative environmental impact. Not everyone knows about this issue yet, so we really need your help in spreading the word.