Recipe: Áine Carlin's Mouth-Watering No-Bake Vegan Pesto Tart
Planning on going vegan? Or have you already taken the plunge but need some helpful advice and recipes? Áine Carlin's The New Vegan aims to take the stress out of going vegan by offering tips on a range of topics – including dining out, dealing with cravings and even vegan-friendly fashion. But what we're most excited about is the host of tasty recipes, such as marinated cauliflower steaks and blueberry cream pie. We loved Áine's last book, Keep It Vegan, so much that she won PETA's award for best vegan cookbook!
For anyone keen to get their hands on The New Vegan, we have a copy to give away!
This recipe for a raw vegan tart is a delicious dish for new and long-time vegans alike:
Layered No-Bake Pesto Tart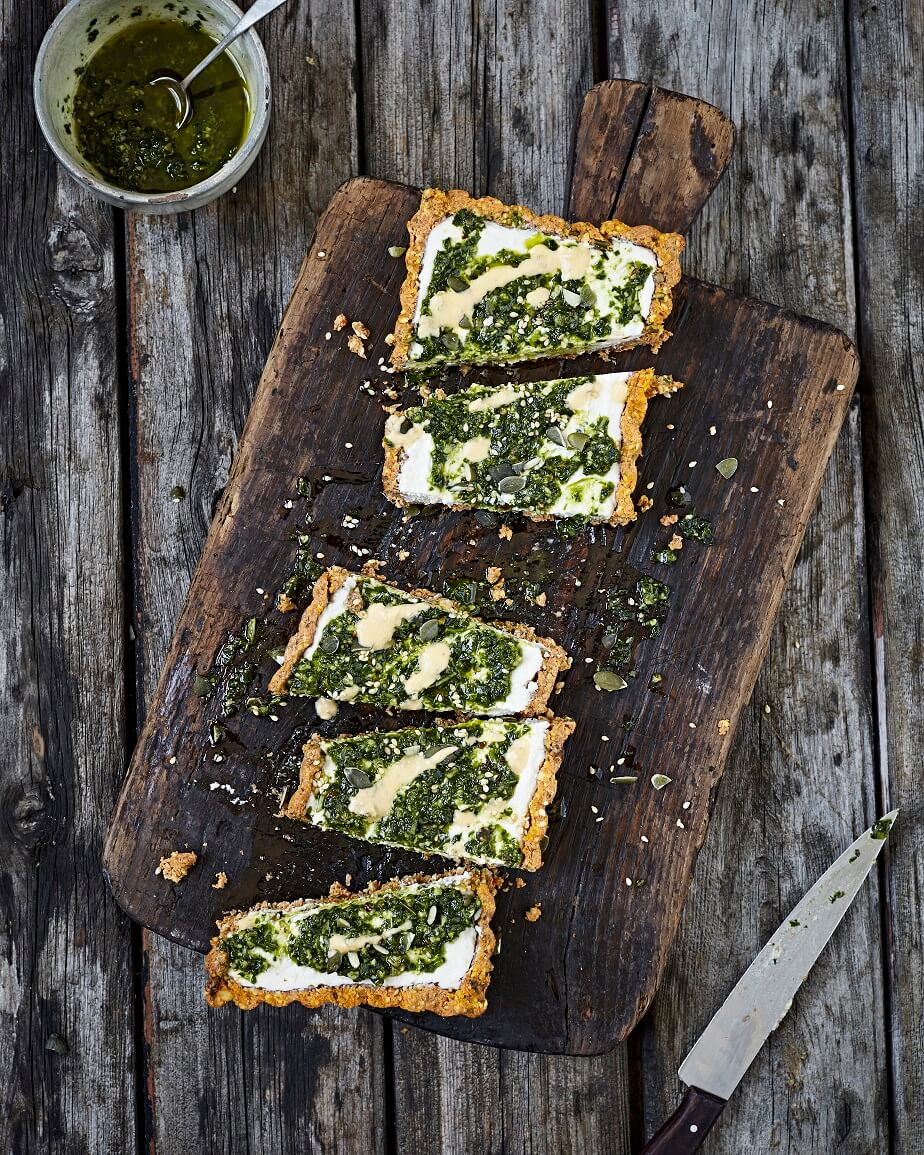 I'm not going to lie. When I first came across 'raw food' it kinda freaked me out. Even though I'd happily chow down on crudités and loved eating fruit, the thought of an entirely raw meal really did not appeal. Little did I know the immense cuisine that embodies this often much-maligned movement is vast and delicious, and after trying out a few dishes in raw food restaurants, such as Saf, I was officially hooked. Almost six years down the line and I'm forever experimenting with raw food in my own kitchen. This carrot, cashew and pesto combo makes for a great dinner party starter dish or entrée for a fancy lunch. The layers of textures and flavours are sure to trick your guests into thinking that you'd spent the day cooking instead of assembling … never a bad thing in my book.
SERVES 4–6
Ingredients
For the crust:
2 small carrots, finely grated
70 g walnuts
1 Tbsp mixed seeds
1 heaped Tbsp ground cumin
1/2 tsp paprika
1/2 Tbsp coconut oil
Salt and freshly ground black pepper
For the cashew cream:
130 g soaked cashews (see end)
Juice of 1/2 lemon
1/2 Tbsp coconut oil
For the pesto:
30 g fresh basil leaves
30 g spinach
2 Tbsp mixed nuts (walnuts and pecans work best)
Juice of 1/2 lemon
1 small garlic clove
3 Tbsp extra-virgin olive oil
3 Tbsp flaxseed oil
For the carrot serving sauce:
½ stoned Medjool date
1 Tbsp mixed seeds, such as pumpkin, sesame and sunflower, to serve
Method
Squeeze out any excess juice from the grated carrots into a bowl – reserve this juice for the sauce. Put all the crust ingredients in a food processor or mini blender and blitz until it forms a fine rubble. Taste for seasoning and add a little more salt and pepper if necessary.
Line a 15cm tart tin or 225g loaf tin with baking parchment and press the crust evenly into the bottom. Freeze or refrigerate for 30 minutes to set.
Put all the cream ingredients in a food processor or blender with 50ml water and blitz until completely smooth, scraping down the sides as you go. This may take a while but persevere and it eventually becomes smooth. Check for seasoning, then pour the cream over the chilled carrot crust, reserving one heaped tablespoon for the sauce. Smooth out with a spatula and refrigerate for about 1 hour.
Put all the pesto ingredients in a food processor or mini blender and blend until coarse but spreadable. Taste for seasoning and add a touch more salt and pepper if necessary. Refrigerate for 20 minutes.
Put the reserved carrot juice in a food processor or blender, add the reserved tablespoon of cashew cream and the date and blitz until completely smooth.
Carefully lift the chilled tart out of the tin and ease it onto a serving board. Spoon over the pesto and carefully spread out using a spatula. Drizzle over the carrot sauce and adorn with crushed seeds and nuts.
From The New Vegan by Áine Carlin, published by Kyle Books, priced £14.99. Photography by Nassima Rothacker.
Enter for a Chance to Win
For your chance to win a copy of the book, just fill out the form below. The competition closes at 9 am on 5 February 2016, and one winner will be chosen at random from all entrants and notified by 8 February 2016. The prize will be posted to the lucky winner shortly afterwards.
This competition is now closed.