Vegan King Satay with Spicy Peanut-Ginger Sauce
The chefs at Wicked Healthy – the masterminds behind Tesco's hugely popular Wicked Kitchen range – have launched The Wicked Healthy Cookbook, which is filled with mouth-watering recipes, including this Vegan King Satay with Spicy Peanut-Ginger Sauce.
Meaty king oyster mushrooms make this dish a winner among both meat-eaters and plant-eaters. Their long, thick stems are sliced into chunky strips, skewered, and roasted, and a creamy, gingery peanut sauce brings it all together.
Vegan
Vegan King Satay with Spicy Peanut-Ginger Sauce
Chad and Derek Sarno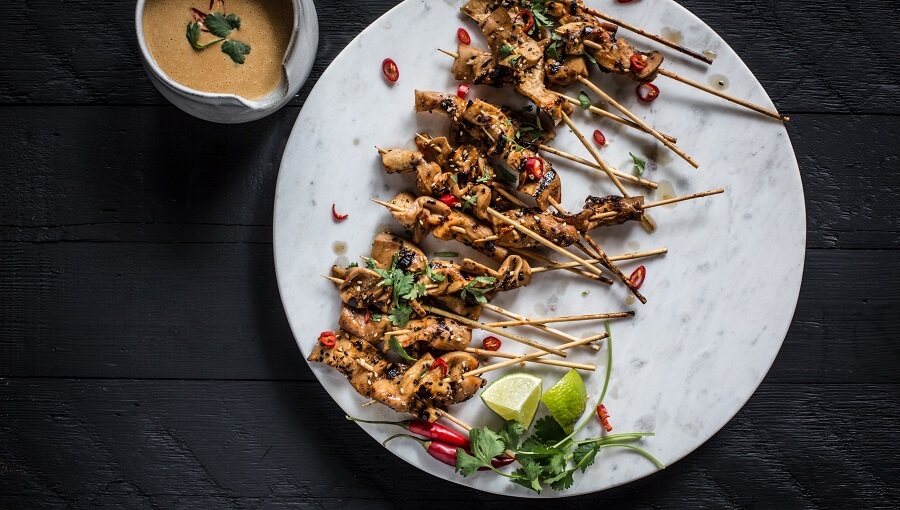 Prep Time

1h 30m

Cook Time

40m

Servings

4–8
Ingredients
450 g

g king oyster mushrooms

5 Tbsp

vegetable oil

1 1/4 cup

water

1/4 + 1/3 cup

low-sodium tamari or soy sauce

1 Tbsp

agave syrup

1 Tbsp

Sriracha or chilli paste

1 tsp

hot chilli oil

1 cup

smooth peanut butter

1/3 cup

fresh lime juice

1 Tbsp

grated fresh ginger

2

cloves garlic, minced

1/4 tsp

smoked paprika

1

Thai chilli, chopped, or 1/2 tsp chilli flakes

Fresh coriander, to serve

Chopped chillies, to serve

Lemon or lime wedges, to serve
Method
Slice off the mushroom caps and save for another use. Trim the bases.
Warm a large, heavy pan over medium-high heat. Coat with 3 tablespoonfuls of the vegetable oil, then add the mushrooms. After 1 minute, place a second heavy pan or a couple of foil-wrapped bricks on top. Sear for 2 minutes, then remove the weight, pour 1/4 cup of the water around the mushrooms, and replace the weight. After 2 to 3 minutes, remove the weight again, flip the mushrooms, and replace the weight. Sear the mushrooms for another 2 to 3 minutes, or until tender and pliable, then remove to a work surface. Let cool for 15 minutes.
Mix together the remaining 2 tablespoonfuls of vegetable oil, 1/4 cup of tamari, the agave syrup, Sriracha, and hot chilli oil.
Slice the mushrooms lengthwise into 5-millimetre-thick strips. Arrange in a single layer on a baking tray and brush with the marinade. Let marinate at room temperature for at least 1 hour or cover and marinate in the fridge for up to 2 days.
Soak a handful of wooden skewers in water for 30 minutes.
Preheat the oven to 175°C. Thread each mushroom strip onto a skewer, folding as many times as possible without breaking. Return to the tray and roast for 20 to 30 minutes, or until lightly browned.
Blend the peanut butter, remaining tamari, lime juice, ginger, garlic, smoked paprika, Thai chilli, and 1/2 to 1 cup of water until smooth.
Drizzle some sauce over the skewers, then place the remainder on the side for dipping.
Garnish with the coriander, chopped chillies, and lemon or lime wedges and serve.
Adapted From The Wicked Healthy Cookbook