Creamy Kale and Mushroom Salad by Deliciously Ella
Ella Mills, better known as Deliciously Ella, created this tasty, fresh salad recipe, which we've adapted ours from:
"This is probably my favourite-ever salad, having stolen the crown from the tahini tamari kale salad in our first book. We're very generous with the dressing in this one, which is why it's so good, as the dressing is really creamy. Make sure to rub the dressing into the leaves firmly, so that the kale is nice and soft. Once it's soft, we toss in chunks of avocado, sautéed mushrooms, cumin, toasted seeds, and garlicky croutons."
Vegan
Creamy Kale and Mushroom Salad by Deliciously Ella
Deliciously Ella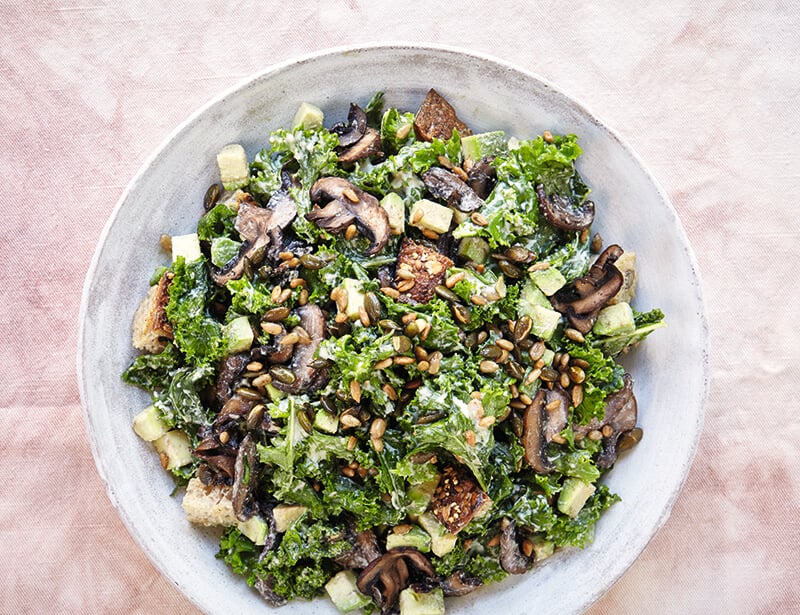 Prep Time 5m
Cook Time 15m
Servings 2
Ingredients
25 g pumpkin seeds
65 g sunflower seeds
125 ml olive oil
Salt, to taste
1 tsp ground cumin
200 g mushrooms, thinly sliced
1 Tbsp apple cider vinegar
200 g kale, leaves torn and thick stems removed
60 g cashews, brought to a boil, soaked for 30 minutes, and drained
100 ml non-dairy milk
2 tsp Dijon mustard
1 heaped Tbsp nutritional yeast
Lemon juice, to taste
2 slices bread
1 clove garlic
2 ripe avocados, peeled, stoned, and cut into bite-size pieces
Method
Preheat the oven to 200ºC. On a baking tray, toss the pumpkin seeds and 25 grams of the sunflower seeds with a tablespoonful of the olive oil, a pinch of salt, and the cumin. Roast for about 5 minutes, until crunchy.
Warm another tablespoonful of the olive oil in a frying pan over medium heat. Sprinkle the mushrooms with salt and sauté, stirring occasionally, until golden brown.
In a large mixing bowl, massage 2 tablespoonfuls of the olive oil, the apple cider vinegar, and a generous pinch of salt into the kale until soft.
For the dressing, blend together the cashews, non-dairy milk, mustard, nutritional yeast, lemon juice, and remaining olive oil and sunflower seeds until smooth and creamy.
Toast the bread, rub with the garlic, and dice to form croutons.
Massage the dressing into the kale and toss with the toasted seeds, mushrooms, avocado, and croutons.
Source
Adapted from Deliciously Ella Quick & Easy by Ella Mills, published by Yellow Kite, out now.