Seitan Roast Stuffed With Mushrooms and Mixed Nuts
This impressive stuffed seitan roast is sure to be the star of the show at any dinner party. The rich flavours and textures of the homemade seitan and the delicious filling will wow your guests. Top it all off with oven-roasted vegetables and juicy red-wine gravy.
Vegan
Seitan Roast Stuffed With Mushrooms and Mixed Nuts
Mathilde, PETA France Corporate Liaison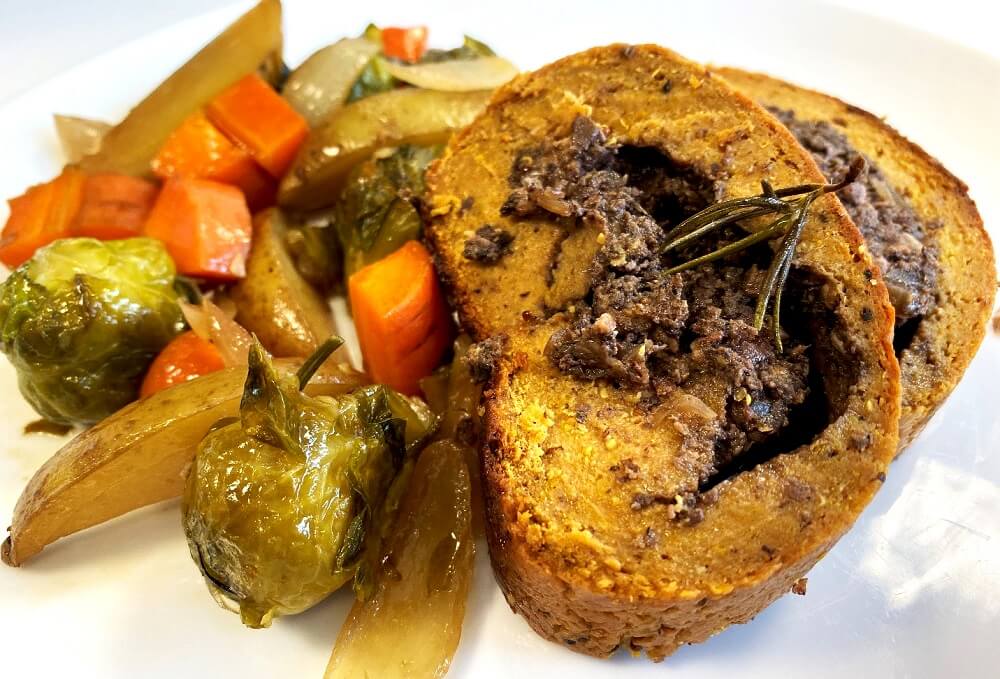 Prep Time

1h 10m

Cook Time

1h 45m

Servings

6
Ingredients
250 g vital wheat gluten

50 g nutritional yeast

1 Tbsp garlic powder

1 Tbsp salt, plus more to taste

1 Tbsp black pepper, plus more to taste

1 tsp turmeric

1 tsp paprika

1 Tbsp miso paste

250 ml vegetable stock

1 onion, finely chopped

1 shallot, finely chopped

5 cloves garlic, finely chopped

3 Tbsp olive oil

150 g portobello mushrooms, roughly chopped

50 g walnuts

50 g hazelnuts

50 g dried cranberries

100 ml vegan red wine

1 Tbsp soya milk

1 Tbsp maple syrup
Method
Combine the vital wheat gluten, nutritional yeast, garlic powder, salt, pepper, turmeric, paprika, and nutmeg in a large mixing bowl.
In a separate mixing bowl, stir together the mustard, the tomato purée, 2 tablespoonfuls of the soy sauce, the miso paste, and the vegetable stock.
Gradually pour into the dry mixture, stirring constantly.
Knead until elastic then set aside.
In a large pan, sauté the onion, shallot, and garlic in 2 tablespoonfuls of the olive oil until the onion begins to brown.
Place the mushrooms, walnuts, hazelnuts, and cranberries in a food processor and blitz until finely chopped.
Add the nut mixture, red wine, and remaining soy sauce to the pan. Bring to the boil and simmer for 10 minutes. Season to taste.
Preheat the oven to 200°C.
Place the seitan dough between two sheets of baking paper and roll out into a rectangle of approximately 30 by 20 centimetres.
Remove the top sheet and spread the filling on the dough, leaving 2 centimetres around the edge.
Fold in half and close by pinching the edges together.
Remove from the remaining baking paper, wrap tightly in foil, and bake on a baking tray in the middle of the oven for 1 hour and 15 minutes, flipping over halfway through.
Whisk together the remaining olive oil, soya milk, and maple syrup.
Unwrap the roast, brush over the wash, and bake for an additional 10 minutes.