Vegan Moules-Frites by Chef Nicolas Decloedt
Enjoy our adaptation of this vegan take on the Belgian national dish by Flemish chef Nicolas Decloedt.
Vegan
Vegan Moules-Frites by Chef Nicolas Decloedt
Nicolas Decloedt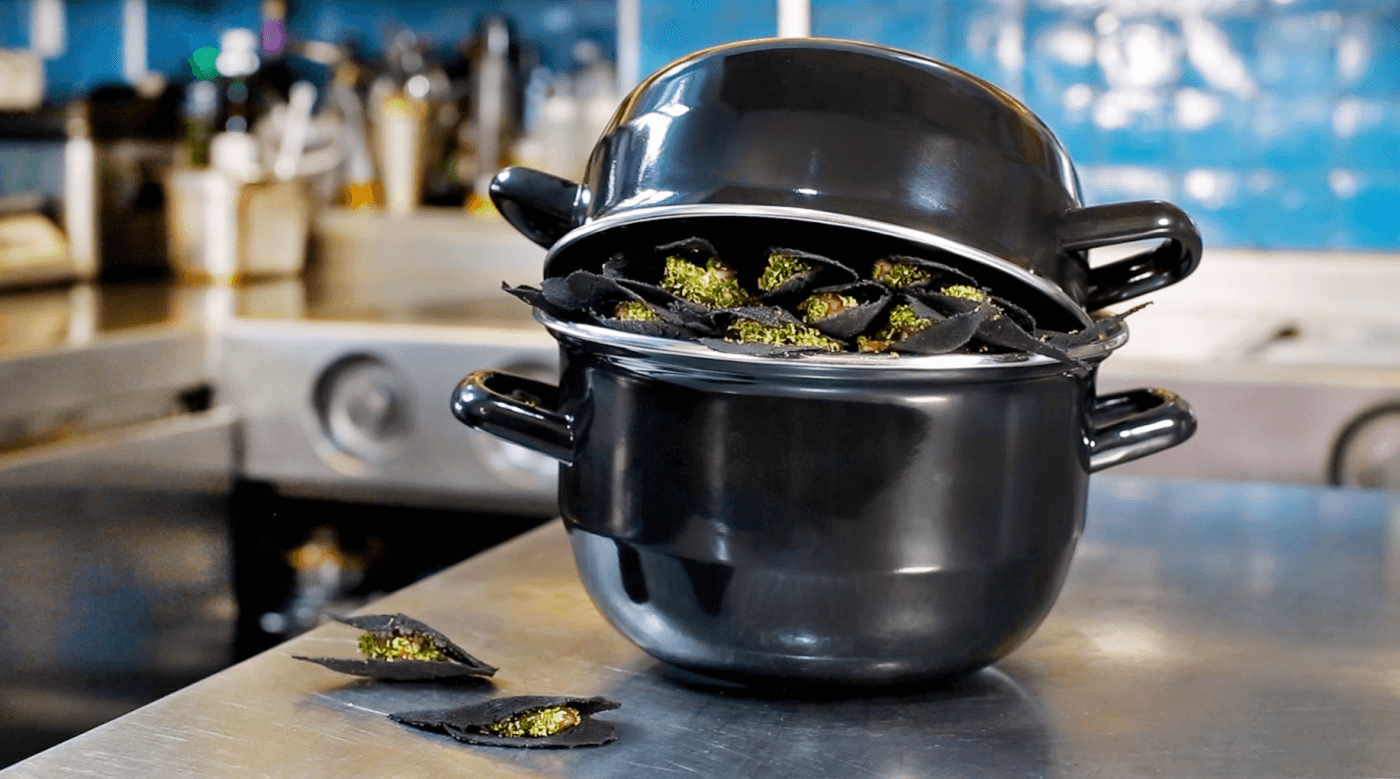 Prep Time

20m

Cook Time

1h 30m

Servings

2
Ingredients
250 g potatoes, washed, peeled, and chopped

25 g isomalt

25 g vegetable stock

15 g salt

8 g seaweed flakes

2 g activated charcoal

110 g celery

20 g garlic

100 g onion

60 g leeks

8 g kombu seaweed

1 litre water

200 g shiitake mushrooms, cut into bite-size chunks
Method
Boil and then mash the potatoes. Melt the isomalt in the stock and add to the mashed potatoes along with 3 grams of the salt, 4  grams of the seaweed flakes, and the activated charcoal. Press the mixture through a sieve.
For this next step, you'll want to refer to the video. Spread out some of the potato dough on a stencil (as shown) and set the "shells" on a silicon baking mat. Repeat until all the dough is used up. Bake at 90°C for 15 minutes. Take each "mussel" off the mat and press between two well-greased spoons to shape.
Bake them again at 115°C for 15 minutes more. Cool and set aside in an airtight container.
Wash and chop the celery, garlic, onion, and leeks. Add them along with the kombu to the water in a small cooking pot. Bring to the boil and simmer for 25 minutes. Put the stock through a sieve and discard the vegetables.
Bring the stock back up to the boil and add the remaining salt. Boil the mushrooms for 3 minutes and let them soak for 15 more minutes, then remove from the stock.
Roll each mushroom piece in the remaining seaweed flakes and place between two "mussel shells". Repeat with the remaining shells and mushrooms.
Enjoy!