VICTORY! Burberry Bans Fur and Angora
Cartwheels are happening at PETA HQ following the announcement that iconic British brand Burberry is joining Armani, Versace, Gucci, Vivienne Westwood, Stella McCartney, and others in banning fur from all its collections – and that it's ditching angora, too.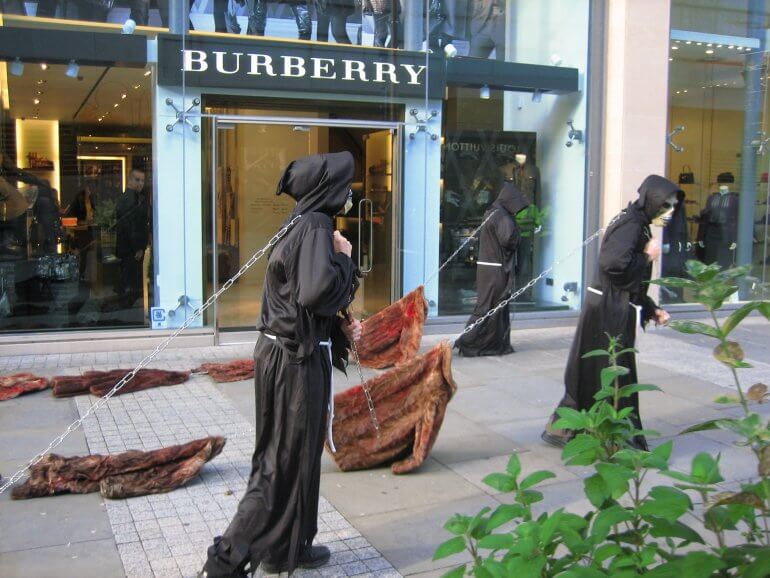 This great news comes after over a decade of campaigning by PETA and our international affiliates against Burberry's use of fur, including holding dozens of protests outside its stores around the world, sending tens of thousands of e-mails, distributing countless leaflets and posters, and even becoming a company shareholder in order to attend its annual shareholder meeting back in 2007. At that time, the question we wanted to ask the company was this: "When will Burberry stop supporting cruelty to animals … and respect the will of 93% of the British public by removing all fur products from your stores?" It's been a long wait, but we've finally got our answer!
Recognising that fur isn't fashionable, sustainable, or ethical, the debut collection for the label by Riccardo Tisci, its new chief creative officer, at London Fashion Week will be entirely fur-free, in line with the vast majority of designers and retailers who had a show or presentation at the event in February.
Burberry's decision is a sign of the times, as today's shoppers are seeing fur for what it really is: the skin of animals who are caged and electrocuted or bludgeoned to death. On fur farms in Europe, in China, and elsewhere, animals are crammed into tiny wire cages, where they're denied the opportunity to do anything that's natural or important to them, such as raising young, roaming, or playing. Wild fur-bearing animals are caught in steel traps and often left to die slowly from blood loss – coyotes are still being killed in this way for the frivolous trim on Canada Goose's jackets.
What You Can Do
London Fashion Week is just around the corner, and even though the vast majority of fashion houses now have strict no-fur policies and Britain introduced a ban on fur farming nearly 20 years ago, a small number of brands will shamefully still be showcasing fur on the catwalks – a move made possible by the British Fashion Council's (BFC) inaction on this important issue. According to its website, the council's "strategic pillars" include "sustainability" and "ethics", but as long as it continues to support the cruel slaughter of animals for fur, these will just be token words.
Please join us in urging the BFC to reflect the changing times and British values by introducing a ban on fur at all its events, including London Fashion Week.