Asparagus and Broccoli Pasta Bake
Vegan
Asparagus and Broccoli Pasta Bake
Ginger Kitchen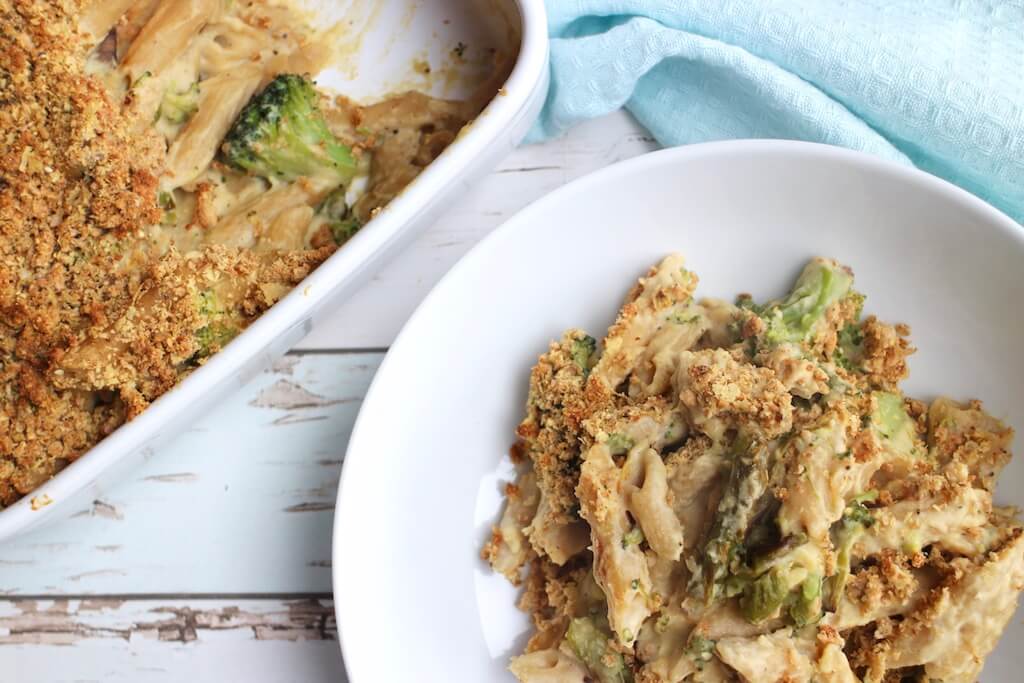 Prep Time

20m

Cook Time

15m

Servings

2
Ingredients
24 spears asparagus

1 Tbsp olive oil

1 pinch salt

1 pinch black pepper

2 cups pasta

3 Tbsp vegan butter

3 Tbsp plain flour

2 cups soya milk

1 tsp Dijon mustard

1 tsp onion granules

1/2 tsp garlic granules

1/2 cup + 2 Tbsp nutritional yeast

1 head broccoli, cut into florets

1 slice wholemeal bread
Method
Preheat the oven to 200°C.
Snap the woody ends off the asparagus spears and discard.
Lay the remaining spears on a lined baking tray, drizzle with olive oil, and season with salt and pepper. Roast for 15 minutes.
Cook the pasta for 10 minutes while making the sauce.
In a pan, melt the vegan butter. Stir in the flour to form a paste. Add the soya milk to the pot a little at a time, stirring constantly.
Add the mustard, onion granules, garlic granules, and 1/2 cup nutritional yeast and mix well. Set aside.
Add the broccoli to the pasta 2 to 3 minutes before it finishes cooking.
Remove the asparagus from the oven and chop into chunks. Lower the oven temperature to 180°C.
Drain the pasta and broccoli and return to the pan. Add the asparagus and the sauce. Mix well until everything is coated. Transfer to an ovenproof dish.
Pulse the bread into crumbs in a food processor then add the remaining nutritional yeast. Sprinkle over the pasta.
Bake for 15 minutes.