Raspberry Cheesecake Brownies
Vegan
Raspberry Cheesecake Brownies
Vegan Lass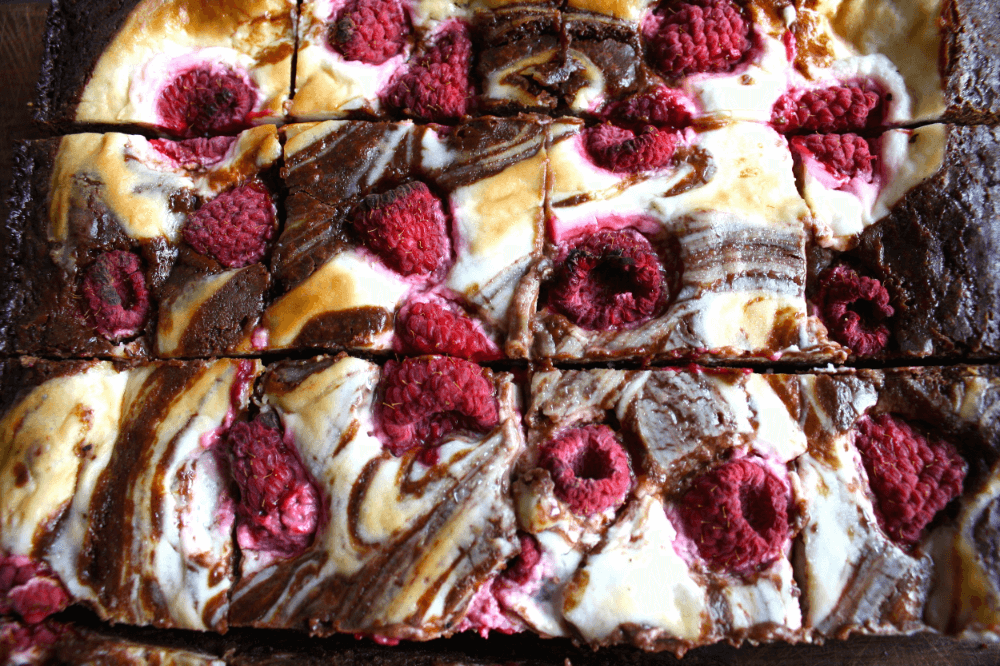 Prep Time

30m

Cook Time

45m

Servings

15
Ingredients
200 g vegan dark chocolate

280 g vegan butter

170 g plain white flour

320 g + 2 Tbsp caster sugar

40 g brown sugar

1/4 tsp bicarbonate of soda

3 Tbsp cocoa powder

1/2 tsp ground sea salt

225 ml soya milk

1 1/2 tsp vanilla extract

225 g vegan cream cheese

1 squeeze fresh lemon juice

150 g fresh raspberries
Method
Preheat the oven to 180ºC degrees. Grease an 8-inch square pan and line with greaseproof paper.
Melt the chocolate and the vegan butter in a bowl over a pan of simmering water (or in a double boiler), stirring frequently.
Sift the flour, 320 grams of the caster sugar, the brown sugar, the bicarbonate of soda, the cocoa powder, and the salt into another large bowl. In a separate bowl or jug, mix together 100 ml of the soya milk and 1 teaspoonful of the vanilla extract.
In another bowl, beat together the vegan cream cheese, the remaining soya milk, the remaining vanilla, the remaining caster sugar, and the lemon juice.
Pour the chocolate mixture into the centre of the dry ingredients, mixing until thoroughly combined. Add the soya milk mixture, stirring until smooth.
Pour into the pan and dot with spoonfuls of the cream-cheese mixture. Create swirls using a knife and sprinkle with the raspberries. Bake for 40 to 45 minutes, until just firm.
Let cool before cutting. Can be stored in the fridge for up to five days.