BBQ Tofu Wings With Ranch Sauce
Vegan
BBQ Tofu Wings With Ranch Sauce
The Whole Ingredient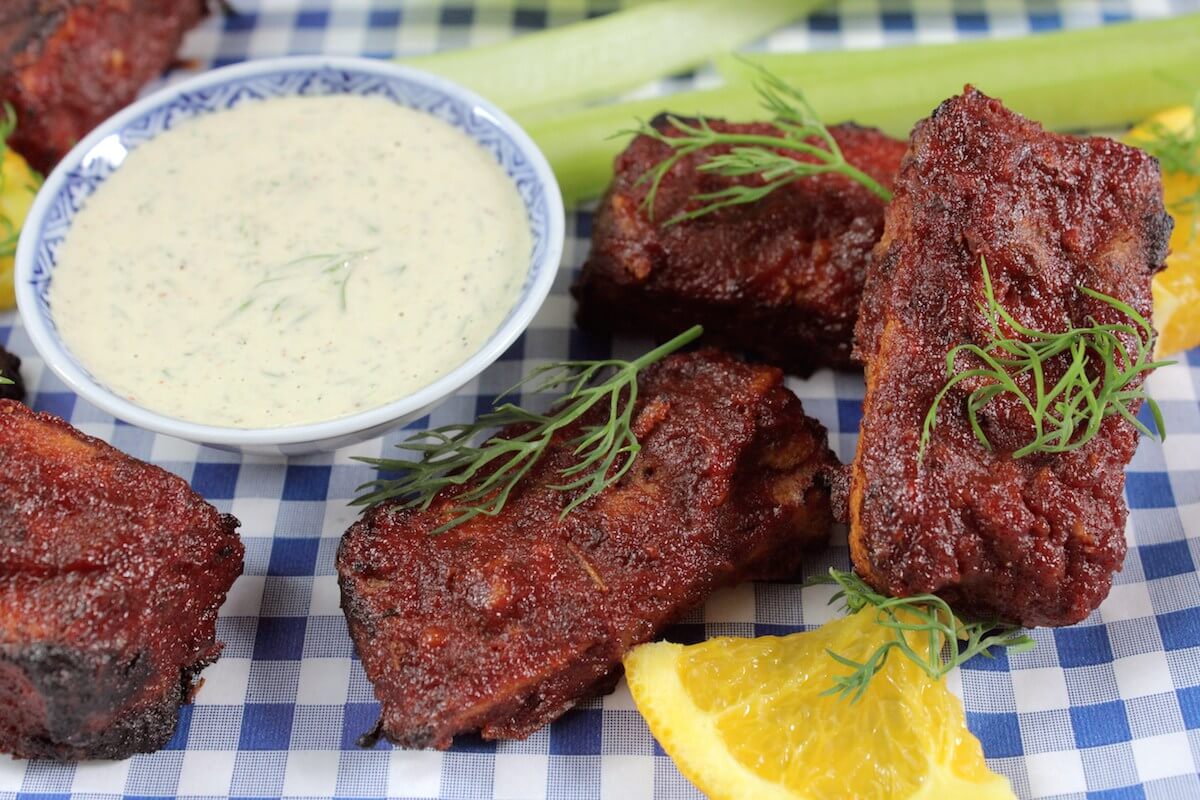 Prep Time

20m

Cook Time

40m

Servings

5
Ingredients
1 block (250–300 g) firm tofu

2 Tbsp gram flour

7 Tbsp water

1 Tbsp plus 2 tsp dried oregano

1 tsp dried onion granules

1 Tbsp plus 1 tsp smoked paprika

1/2 tsp cayenne pepper, plus a pinch for the dressing

1 tin (400 g) tomatoes, puréed

2 Tbsp tomato purée

2 Tbsp balsamic vinegar

2 Tbsp maple syrup

1 Tbsp soy sauce

Juice of 1/2 orange

4 cloves garlic, minced

1 tsp dried chilli flakes (or cayenne pepper)

Black pepper, to taste

2 Tbsp tahini

1 handful fresh dill leaves (about 10 g)

1 tsp lemon juice

1/2 tsp Dijon mustard

1/2 tsp apple cider vinegar (or red wine vinegar)

1 tsp dried marjoram (or oregano)
Method
A day in advance, cut the tofu into 5 slices about 1 cm thick, then halve each one. Place on a plate between sheets of kitchen paper and freeze. Start defrosting a couple of hours before you want to start cooking.
Heat the oven to 200°C/Gas Mark 6.
Place the defrosted tofu between sheets of kitchen paper on a chopping board, then put another board and a heavy book on top. Press until most of the water has been soaked up by the paper. Don't allow the tofu to dry out and crumble.
Combine the gram flour, 3 tablespoonsful of water, 2 teaspoonsful of oregano, the onion granules, 1 teaspoonful of paprika, and 1/2 teaspoonful cayenne pepper in a bowl.
Coat each tofu "wing" in the batter and place on a non-stick baking tray, greased with a little oil if needed.
Place on the top shelf of the oven and bake for 30 minutes, turning once halfway through.
Combine tomatoes, tomato purée, balsamic vinegar, maple syrup, soy sauce, orange juice, 3 cloves of garlic, 1 tablespoonful of paprika, 1 tablespoonful of oregano, 1 teaspoonful of chilli flakes, and pepper in a saucepan, stir, and cook over medium heat, covering once bubbles begin to form. Simmer for 20 to 30 minutes, until thick. Remove from heat.
To make the ranch sauce, blend the tahini, 4 tablespoonsful of water, the dill, 1 clove of garlic, the lemon juice, mustard, apple cider vinegar, and marjoram in a food processor until smooth.
Remove the "wings" from the oven after 30 minutes. Use a spoon to coat each "wing" with the BBQ sauce before placing back on the tray.
Bake for another 10 minutes, arrange on a plate with the ranch sauce, and serve!