Vegan
'Chicken' Caesar Wraps
hot for food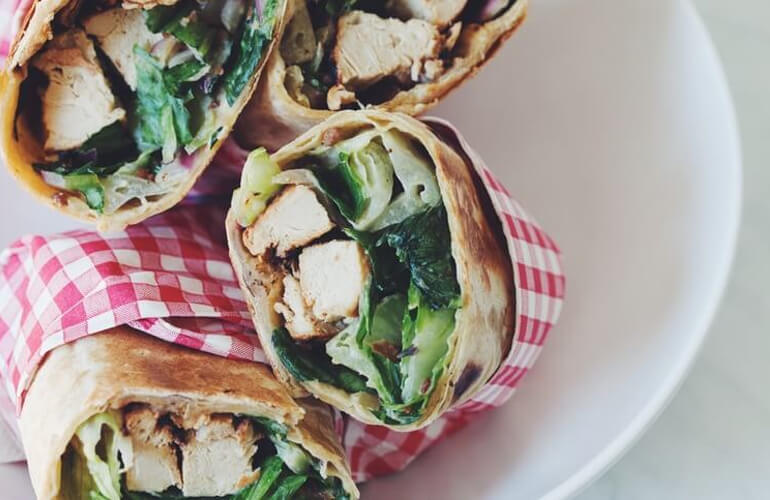 Prep Time

15m

Cook Time

1h

Servings

4
Ingredients
1 garlic bulb

1 tsp + 2 Tbsp olive oil

1 tsp + 1 pinch sea salt

1 tsp + 1 pinch ground pepper

3/4 cup cubed medium tofu

1 cup water

1 pitted Medjool date

3 Tbsp lemon juice

1 tsp lemon zest

3 1/2 Tbsp nutritional yeast

1 Tbsp apple cider vinegar

1/2 tsp Dijon mustard

1/2 block firm tofu

1/4 cup soy sauce

2 Tbsp liquid smoke

2 Tbsp maple syrup

1 1/2 tsp smoked paprika

2 vegan unbreaded "chicken" breasts

2 tsp vegetable oil (for frying)

4 cups roughly chopped romaine lettuce

1/4 cup thinly sliced red onion

4 vegan wraps or flatbreads
Method
Preheat the oven to 200°C/Gas Mark 6.
Peel all but one thin layer of skin off the garlic bulb and cut 1/4 inch off the top, exposing the cloves.
Coat with 1 teaspoonful of olive oil, a pinch of salt, and a pinch of pepper. Bake for 25 to 35 minutes, until browned and soft. Peel.
To make the dressing, place the roasted garlic, the cubed tofu, ¾ cup water, the remaining olive oil, the date, lemon juice, lemon zest, nutritional yeast, vinegar, mustard, and the remaining salt and pepper in a blender and blend on high until very smooth. Refrigerate.
To make "bacon" bits, finely crumble the firm tofu into a dish and add the soy sauce, liquid smoke, maple syrup, paprika, and the remaining water. Stir to combine and coat the tofu.
Spread out on a parchment-lined baking sheet in an even layer.
Bake for 25 minutes, turning once or twice, until browned and crispy.
Pan-fry the vegan "chicken" breasts for 5 to 6 minutes over medium heat with 2 teaspoonsful of oil, until browned and cooked through.
Cut into strips.
Toss the romaine, the red onion, and the dressing together in a large bowl until well coated.
Spread a portion on each wrap, top with the "bacon" bits, then add the "chicken" strips. Wrap tightly and cut in half.