Chocolate and Peanut Butter Banana Bread
Vegan
Chocolate and Peanut Butter Banana Bread
The Rose & Bean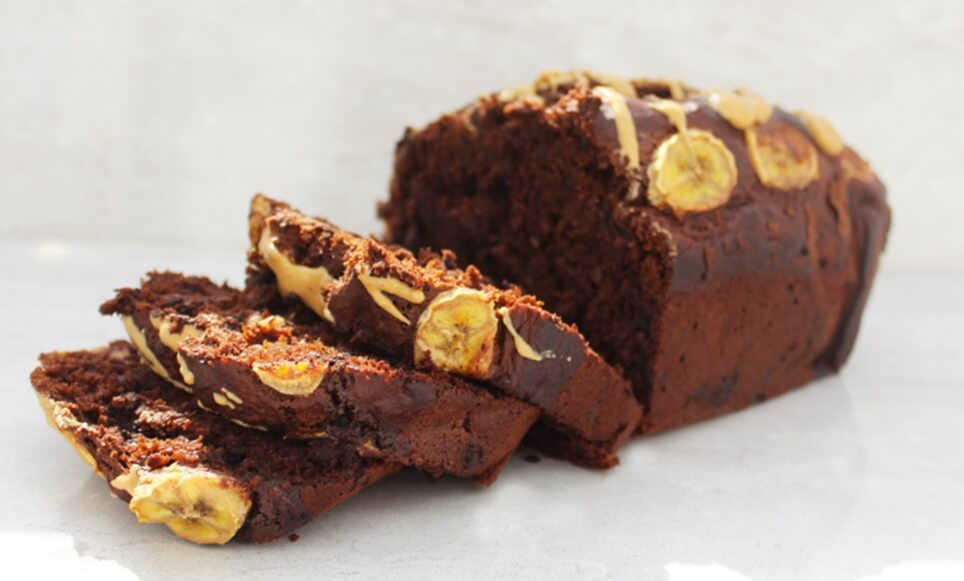 Prep Time

15m

Cook Time

50m

Servings

6
Ingredients
1 Tbsp milled flax seeds

150 g plain flour

50 g cacao powder

1 tsp bicarbonate of soda

1/2 tsp baking powder

3 ripe bananas, plus 1 for topping (optional)

1 tsp vanilla extract

50 g coconut oil, melted

4 Tbsp agave nectar

50 g smooth peanut butter, plus extra for topping (optional)

55 g dark chocolate chips
Method
Preheat the oven to 180°C/Gas Mark 4. Line a loaf tin with parchment paper.
Prepare the flax "egg" by mixing the milled flax seeds with 2 1/2 Tbsp water. Stir and refrigerate for 10 minutes.
In a large bowl, sift together the flour, cacao powder, bicarbonate of soda, and baking powder.
In a separate bowl, mash the bananas. Stir in the vanilla extract, coconut oil, agave nectar, peanut butter, and flax "egg".
Pour the wet ingredients into the flour mixture and mix well. Add the chocolate chips and stir to ensure even distribution.
Pour into the prepared loaf tin. If using, thinly slice the fourth banana over the mixture.
Place in the oven for 50 minutes or until a skewer comes out clean
Let cool in the loaf tin for 10 minutes before removing and placing on a cooling rack.
Once completely cool, melt the peanut butter in the microwave in 10-second bursts on high until slightly runny. Drizzle over the cooled banana bread.