Cinnamon Churros with Chocolate Ganache
Vegan
Cinnamon Churros with Chocolate Ganache
The Little Blog of Vegan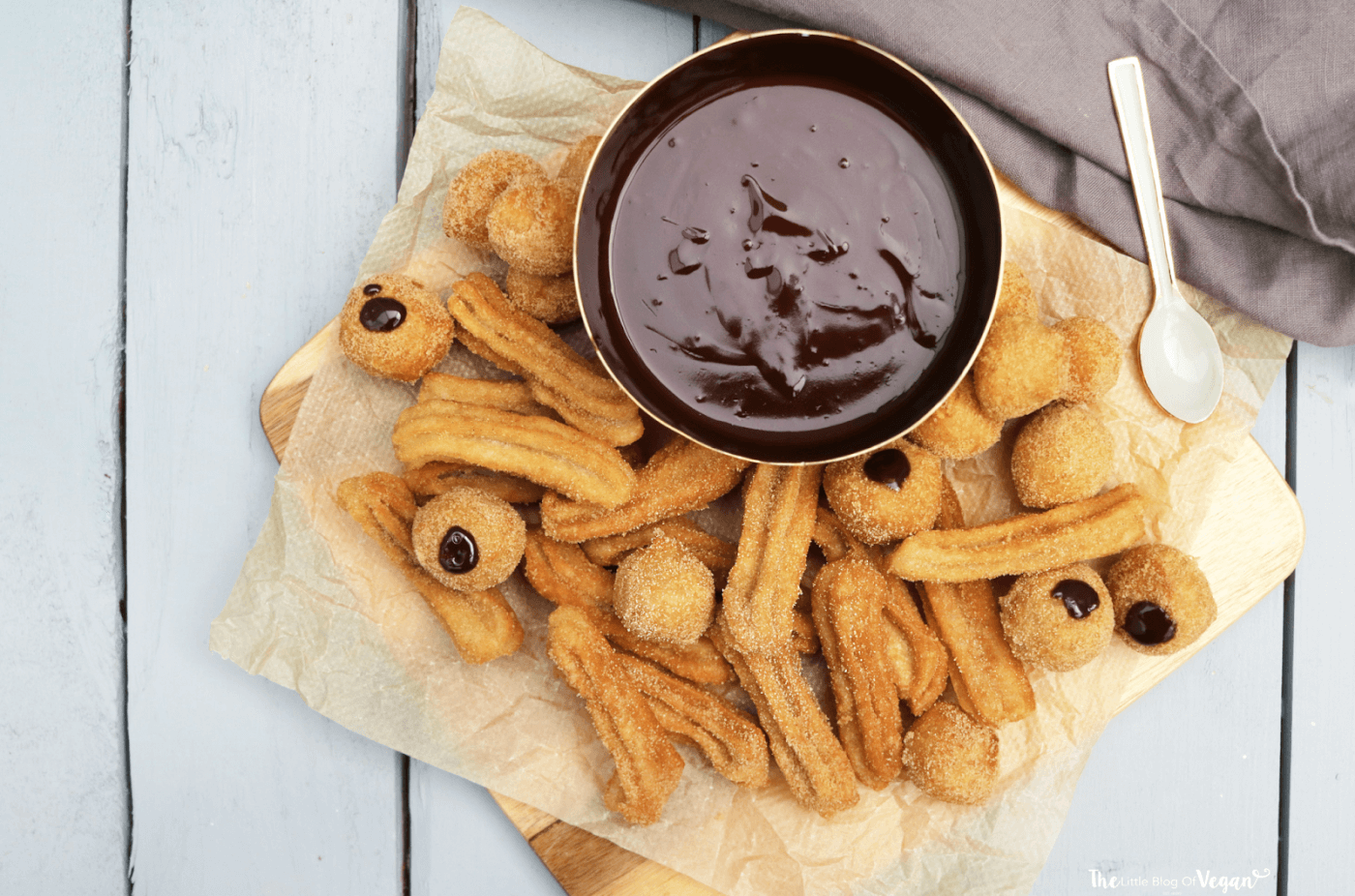 Prep Time

20m

Cook Time

25m

Servings

12
Ingredients
210 g plain or bread flour

1 tsp baking powder

380 ml water

1/4 tsp salt

1 Tbsp + 50 g caster sugar

1 Tbsp + 900 ml light olive oil

1 1/4 tsp vanilla extract

1 tsp ground cinnamon

150 g dairy-free dark chocolate, broken into pieces

1 can coconut cream
Method
In a large bowl, mix the flour and baking powder and set aside.
Place the water, salt, 1 tablespoonful of sugar, 1 tablespoonful of oil, and 1/4 teaspoonful of vanilla extract in a small saucepan, stir well, then bring to the boil over medium heat.
Pour over the flour and mix until a dough forms.
Place in a piping bag fitted with a star-shaped nozzle and pipe lines onto greaseproof paper.
Warm 900 ml of oil over medium heat to 180°C in a large saucepan. (If you don't have a cooking thermometer, test the oil by frying a cube of bread. It will brown in about 30 seconds if the oil is at a moderate heat.) Carefully drop in four churros and fry for 1 to 2 minutes on each side, or until golden. Remove from the pan using a slotted spoon and place on kitchen paper to remove any excess oil. Repeat until all the churros are cooked.
Mix the cinnamon and remaining caster sugar in a large bowl.
Roll each churro in the sugar then set aside while making the chocolate ganache.
Place the chocolate in a bowl. Melt the coconut cream in a small saucepan over medium heat then carefully pour over the chocolate and add the remaining vanilla extract. Leave for 1 minute then stir until smooth and glossy.
Dunk the churros into the ganache and enjoy!