Vegan
Vegan Croissants
The Rose & Bean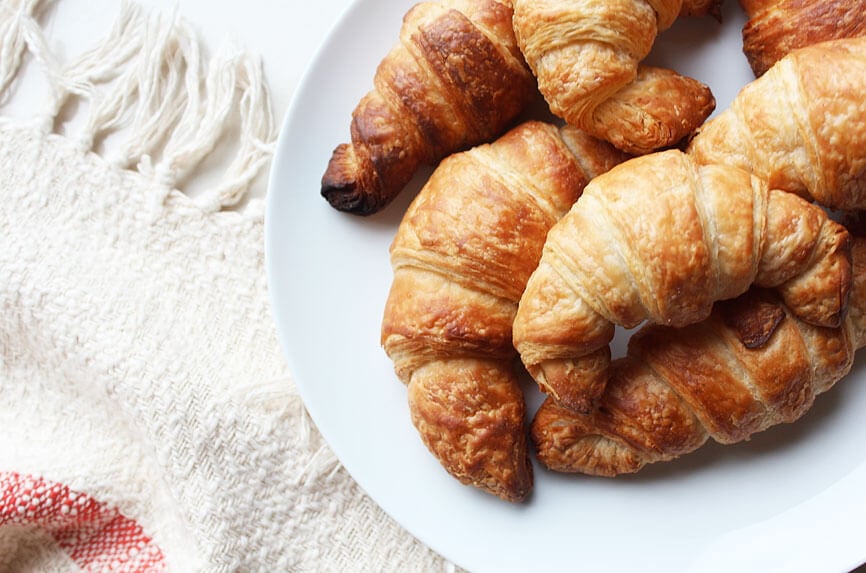 Prep Time

10h

Cook Time

20m

Servings

9
Ingredients
260 ml water

40 g caster sugar

14 g (2 sachets) fast-acting yeast

500 g plain flour

360 g vegan butter

10 g salt

Splash non-dairy milk
Method
In a large bowl, mix the water, sugar, and yeast. Add the flour and 100 g of vegan butter and knead together. (It'll be quite dry.) Cover the bowl with cling film and refrigerate for 8 hours or overnight.
Place the remaining vegan butter between two pieces of parchment paper or in a sandwich bag. Roll into a roughly 20- by 20-cm square. Wrap in cling film and refrigerate until the dough is ready.
Place the refrigerated dough on a lightly floured worktop. Roll into a 40- by 20-cm rectangle.
Place the vegan butter on the dough in the centre. Fold the two ends of the dough over the butter to meet in the middle. Seal the butter in by crimping the dough all around the edges.
Roll the pastry out from the middle towards the edges into a long rectangle roughly 60 by 20 cm.
Fold one end over, about one-third of the way across. Fold the other end on top, forming the dough into a square.
Wrap in cling film and refrigerate for 30 minutes.
Remove and place with the closed end facing left. Roll into a 60- by 20-cm rectangle again. Fold back into thirds, cover with cling film, and refrigerate for 30 minutes.
Remove, roll out, fold into thirds, and cover with cling film again. Refrigerate for 60 minutes.
Preheat the oven to 180°C.
Remove the pastry from the fridge and, on a lightly floured surface, roll out to about 60 by 20 cm. Cut into 9 triangle-shaped pieces.
Make a small slit in the middle of the base of 1 triangle. Roll the pastry from the base to the opposite point, turning by the corners to avoid crushing the layers. Repeat with the other 8 triangles.
Place the croissants on a baking sheet with the seal underneath and brush lightly with non-dairy milk. Cover lightly with parchment paper and let rise for 1 hour.
Place in the oven for 20 minutes. If browning too quickly, cover with foil.
Remove from the oven and let cool, then serve.