Lentil and Chickpea Curry
Vegan
Lentil and Chickpea Curry
The Rose & Bean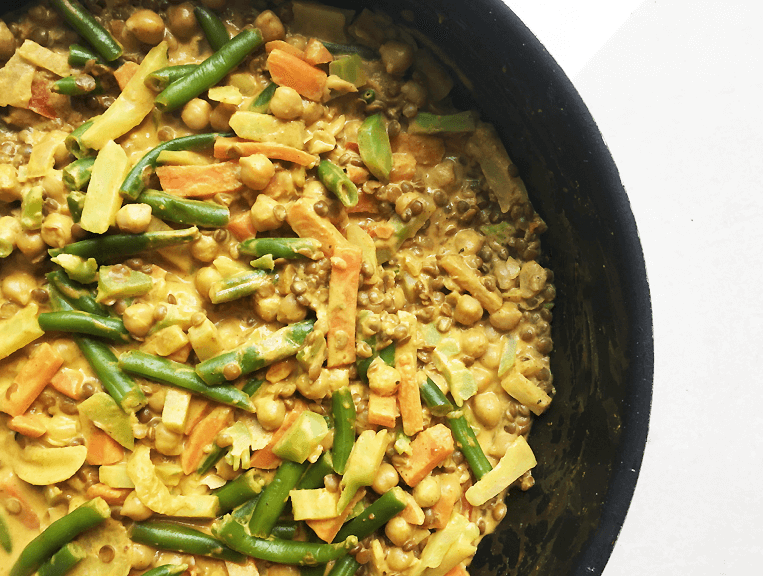 Prep Time

2m

Cook Time

20m

Servings

4
Ingredients
500 g frozen vegetables

1 tsp fresh ginger, grated

1 1/2 Tbsp curry powder

1/2 Tbsp turmeric

1 tsp chilli powder (optional)

1 400-g tin lentils, drained and rinsed

1 400-g tin chickpeas, drained and rinsed

1 400-g tin coconut milk

2 tsp tomato paste

Salt, to taste

Pepper, to taste
Method
Heat a large frying pan over high heat.
Pour the frozen vegetables into the pan and stir as they defrost, about 3 minutes.
Add the ginger, curry powder, turmeric, and optional chilli powder and stir well to coat.
Cook for another 2 minutes, stirring frequently.
Add the lentils and chickpeas and stir to coat.
Spoon in the coconut milk and tomato paste and stir well.
Bring to a boil then simmer over medium heat, stirring frequently.
Add salt and pepper to taste.
Cook for another 5 to 10 minutes, or until the sauce has thickened slightly.