Vegan
Sun-Dried Tomato Quiche
The Little Blog of Vegan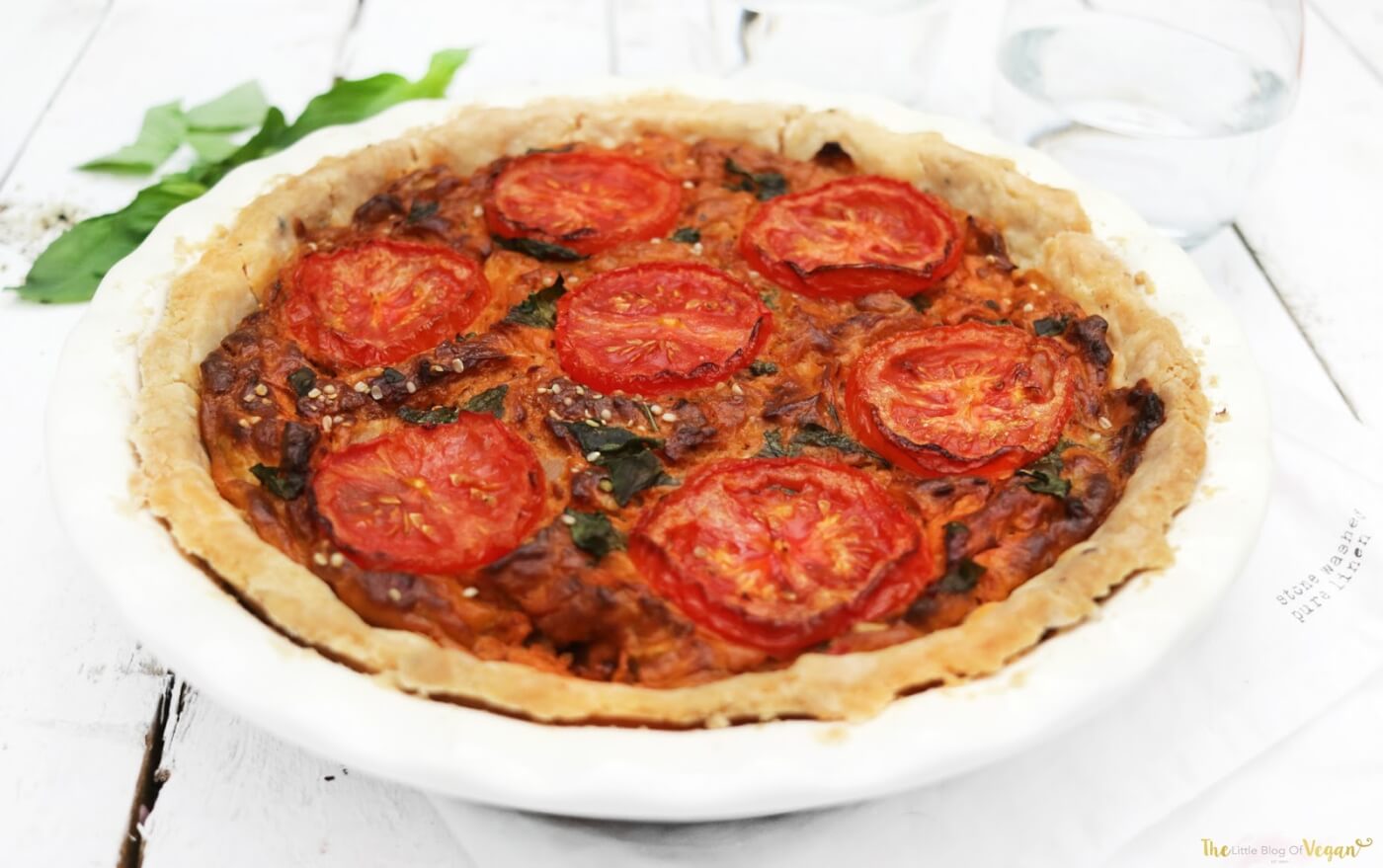 Prep Time

2m

Cook Time

50m

Servings

6
Ingredients
320 g plain flour

1/2 tsp salt

3/4 tsp baking powder

140 ml light olive oil

140 ml non-dairy milk

1 tsp lemon juice

1 tsp hemp seeds

Vegan butter or margarine

2 large vine tomatoes, sliced

1 white onion, roughly chopped

1 clove garlic, roughly sliced

1 pkg firm silken tofu (349 g)

Juice of 1/2 lemon

2 Tbsp nutritional yeast

1 Tbsp tahini

143 g sun-dried tomatoes, drained
Method
Preheat the oven to 180ºC. In a large mixing bowl, combine the flour, 1/4 teaspoonful of the salt, and the baking powder.
Rub 125 ml of the oil into the dry ingredients with your fingers for about 3 to 5 minutes, until crumbly.
In a small bowl, combine 80 ml non-dairy milk and 1 teaspoonful of lemon juice, then add to the crust mixture, along with the hemp seeds.
Knead into a ball of dough, adding more oil or milk as needed.
Wrap in cling film and refrigerate for 10 minutes, then let sit at room temperature for a few minutes.
Flour a clean work surface and rolling pin and roll out the dough to the size of your pie dish.
Grease the dish with vegan butter or margarine.
Carefully transfer the dough to the dish and trim off any excess.
Using a fork, prick the base then bake for 8 to 10 minutes, until partly cooked.
Place the tomato slices on a baking tray, brush with oil, and sprinkle with salt. Bake for 5 to 10 minutes.
Heat the remaining oil in a large frying pan. Add the onion and garlic and fry until golden.
Drain the tofu and crumble into a food processor. Process with the lemon juice, the remaining salt, nutritional yeast, the remaining non-dairy milk, the tahini, and the sundried tomatoes until smooth.
Stir in the onions and garlic.
Pour into the crust and garnish with sliced tomatoes, basil, and hemp seeds (optional).
Bake for 35 to 40 minutes, checking for doneness after 30 minutes. If it starts to burn, cover with foil.
Serve with fresh basil.