Vanilla Panna Cotta with Blueberry Compote by Áine Carlin
Try your hand at this delectable, perfectly wobbly panna cotta, adapted from a recipe by Áine Carlin:
"I'm fairly fussy when it comes to dessert. Because I don't indulge in it that often, when I do it has to be a little bit special. These easy panna cottas are just that. You could say that this is simply jelly for grown-ups, but that shouldn't mean they don't invite some excitement when brought to the table. Perhaps it's their funny wibble (technical term) or maybe it's the ceaseless versatility on the flavour front, but I just can't seem to get enough of them. It also helps that they can be made well in advance, which saves any stress when you have guests. I love their subtle sweetness and soothing beige hues – but feel free to experiment here yourself. I can't wait to see what you come up with."
Vegan
Vanilla Panna Cotta with Blueberry Compote by Áine Carlin
Áine Carlin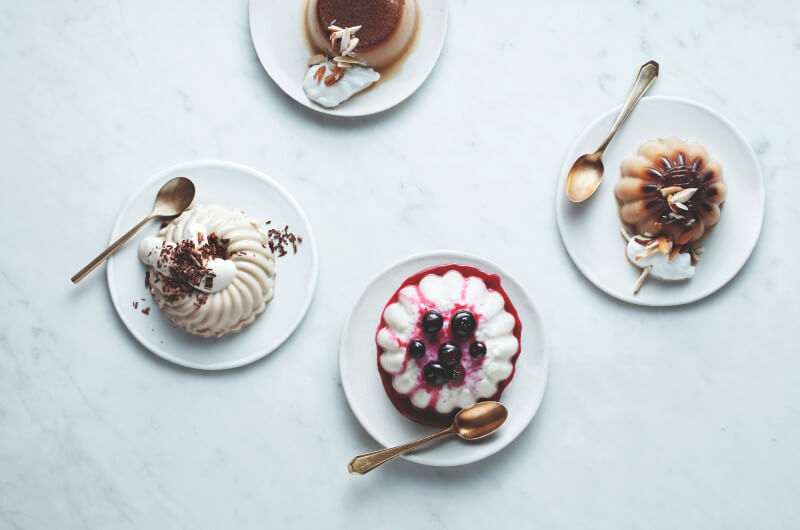 Prep Time

0m

Cook Time

30m

Servings

2-4
Ingredients
2 heaped tsp agar flakes

1 vanilla pod

100 g caster sugar

250 ml soya cream

1 tsp vanilla extract

150 g blueberries

Juice of 1/2 lemon
In a small saucepan, combine the agar with 250 ml of water without stirring. Bring to a boil and simmer over medium heat for 5 to 10 minutes, until the agar has dissolved.
Split the vanilla pod lengthways and scrape the seeds into the liquid. Add the pod and 55 grams of the sugar and simmer for 3 to 5 more minutes, or until the sugar has dissolved.
Whisk in the soya cream and cook gently for 1 to 2 minutes, then take the saucepan off the heat and whisk in the vanilla extract. Set aside and allow to cool slightly.
Pour the mixture into 2 large moulds or 4 small glasses. Refrigerate for at least 6 hours or overnight.
To make the compote, place the blueberries in a small saucepan with the lemon juice and the remaining sugar. Bring to a gentle simmer and cook for 10 to 15 minutes, until the blueberries release their juices and begin to soften. Remove from the heat, allow to cool, and refrigerate until ready to serve.
Remove from the refrigerator 5 minutes prior to serving. If using moulds, place a plate on top, carefully flip, and shake gently to release. Spoon the blueberry compote over the panna cotta and serve.
Source
Adapted from a recipe by Áine Carlin, 'Cook Share Eat Vegan' published by Octopus/Mitchell Beazley. Photography by Danielle Wood.